5 Tips for a Winning Home Performance Conference Proposal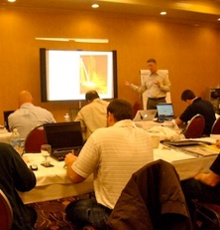 I spent three days in Pittsburgh last week going through session proposals for the Affordable Comfort Conference. Every conference seems to have a different process for choosing which sessions to offer, and ACI (Affordable Comfort, Inc.) has a really interesting one. (And I don't mean that in a negative way!)
I spent three days in Pittsburgh last week going through session proposals for the Affordable Comfort Conference. Every conference seems to have a different process for choosing which sessions to offer, and ACI (Affordable Comfort, Inc.) has a really interesting one. (And I don't mean that in a negative way!)
The purpose of this article isn't to discuss that process, though; it's to help you know what conference organizers are looking for when they review proposals. My field is building science and home performance, so that's what I'm focusing on here, but the principles apply to other fields as well.
The RESNET Building Performance Conference happens a month before Affordable Comfort and, as far as I can tell, uses a process of voting and then staff decisions to put together their conference program. (If you haven't voted yet, please vote for our sessions!)
However it happens, though, the people looking at proposals are attracted to some and not attracted to others. Here are some tips to ensure that yours is in the former group.
Choose an appropriate topic. If it's a conference on Renaissance drama, don't submit a session proposal titled, Thermal evolution of surface structure during surfactant-mediated growth of Ge on Si(100). OK, that's absurd, of course, but you get the point. Make sure that your topic is germane.
Choose an interesting topic. It doesn't have to have a sexy title or be the hottest new technology. If you're submitting for a conference, you've probably been to that conference recently, so which sessions did you see there that had big audiences? What topics are being discussed on Home Energy Pros or LinkedIn? If it's a fundamental topic, are you well known enough to be chosen for it, or do you have a new spin to offer?
Focus! One of the problems we had with quite a few proposals last week is that we couldn't tell exactly what they wanted to talk about. The author's description wandered across several topics or was too broad or just never made any kind of point. Make sure you have a clear idea of what it is that you want to present and that you write it up well enough that the conference organizers can tell what it is, too.
Have clear learning objectives. Affordable Comfort actually asks you to list them, but many conferences don't. Whether they ask for them or not, though, your proposal will be better if you write them down. And understand what they are! Apparently, many people don't know what a learning objective is, based on what we saw last week. Basically, it's what the people in attendance will know or be able to do after the presentation. For example, one of the learning objectives in my proposal on blogging was, "Upon completion, participants will be able to start a blog and have methods for generating blog topics and ideas."
It's NOT all about who you know — it's who knows you. If you're submitting a proposal, your chances are better if the organizers have seen you in action. They're looking for speakers who will draw people in and keep them there. That may be because you're a dynamic speaker who does amazing presentations. Or it may be because you're an expert on a particular topic. Or maybe it's just because the organizers know you won't screw it up, and the only other proposal on the same topic was from a guy who has a reputation for going off the reservation a bit too often. If none of the organizers knows you, that's an area for you to work on.
Related Articles
Voting Is Open for RESNET 2012 Conference Sessions
The 2011 RESNET Building Performance Conference Rocked!