6 Options for Ventilating Homes in Humid Climates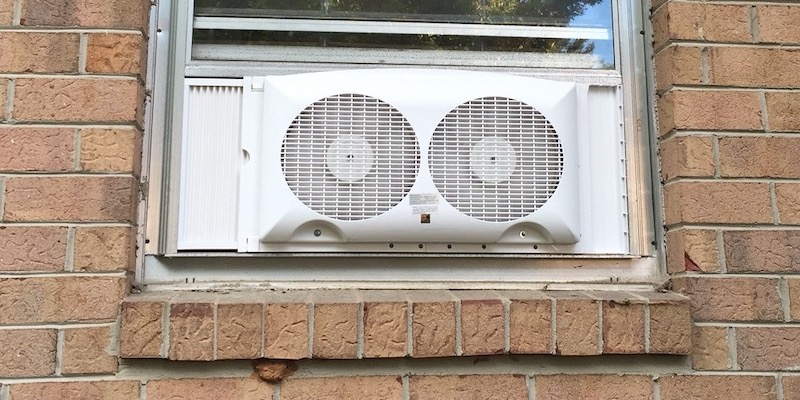 Ventilating homes in any climate has its challenges.  In Duluth, Minnesota, it's the extremely cold weather in winter, which leads to extremely dry air when you bring it indoors.  In Phoenix, Arizona, it's the extremely hot weather in summer, which leads to higher air conditioning costs.  In Santa Monica, California, it's the extremely mild weather year round, which leads to windows getting stuck in the open position after each time the house is painted.  Ventilating homes in humid climates, however, is special.
It's the humidity.  We run our air conditioners in humid climates to keep the indoor humidity at a comfortable level, below 60% relative humidity.  That works great on hot days, not as well on not-so-hot days.  Then, when you bring outdoor air in to reduce the amount of other people's air you rebreathe and improve your indoor air quality, you bring in a lot of water vapor, too.  On a hot day, your air conditioner probably can handle it.  On anything less, it's going to be sticky inside.
That is, it's going to be sticky if you don't understand the proper method for ventilating homes in humid climates.  Here's my countdown of 6 ways you can ventilate a humid climate home.  It starts with one option you should avoid, two methods that are OK if done properly, and ends with the three best options.  (The numbers below aren't wrong.)
6. Fans blowing in, out, or both
Mechanical ventilation simply means moving air with fans.  A whole-house mechanical ventilation system moves air between indoors and outdoors to change the air in the house.  The easiest way to provide this type of ventilation is to run fans that exhaust air from the house, supply air to the house, or both.
Exhaust-only ventilation is not a good idea in humid climates because it sucks warm, humid air into the building assemblies, which can lead to mold growth and moisture damage.  Supply-only ventilation is only a little better.  It does put the house under positive pressure, but you're dumping warm, humid outdoor air right into the house.  Yes, you can temper it by mixing it with indoor air before introducing it, but all the water vapor is still there.
A balanced system does both at the same rate.  The lead photo shows a simple version of that type, although it's not really an acceptable way to do long-term whole-house ventilation.  The only advantage with it is that it minimizes pressure effects in the house, but you're still putting humid air right into the house.
Pros. Cheap and simple.
Cons. Difficult to control indoor humidity.
5. Supply-only fan with humidistat
Positive pressure inside the house is better in humid climates, so the first improvement on a simple supply-only system is a supply-only system with a humidistat.  The QuFresh fan by Air King and the Broan Fresh In fans do that.  It allows you to set upper and lower limits of both temperature and humidity.  When the outdoor air is outside the range you've set, the fan shuts off and waits until conditions improve to start ventilate again.  Also, you can duct the supply air and dump it near a return vent so it gets conditioned and distributed to the house.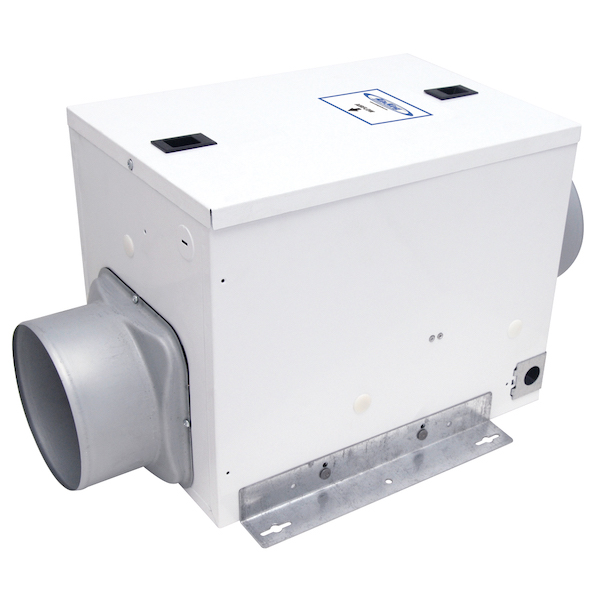 Pros. Inexpensive and simple.  Doesn't require connection with air conditioner.  Better than just fans at controlling indoor humidity.
Cons.  May lead to comfort problems and poorly distributed air, depending on how the outdoor air is introduced.
4. Central fan integrated supply
This system includes a controller, a duct connecting the return duct of the central air handler to the outdoors, and a motorized damper.  You set it for how many minutes per hour you want the air handler to bring in outdoor air.  When the heating or cooling system runs, the damper stays open until it hits the limit of minutes per hour.  If the heating or cooling system don't run enough, it turns on the blower, opens the motorized damper, and ventilates until it reaches the required amount of ventilation.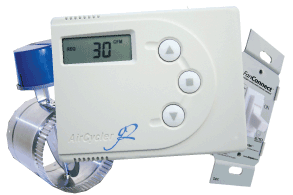 Pros. Inexpensive.
Cons. May be difficult to control indoor humidity on days when the air conditioner doesn't run much.  Requires connecting controlling with air handler.
1. Whole-house ventilating dehumidifier
In places like Sugarland, Texas, Kenner, Louisiana, and Sopchoppy, Florida, we often specify a ventilating dehumidifier in our HVAC design work.  These units pull outdoor air in, dehumidify it, and then send the dry, fresh air into the house.  We like the Santa Fe Ultra series whole-house dehumidifiers* because they're the most efficient, made in America, and built to last.  The best way to set them up is to have independent ducts, as shown below, but we do sometimes connect the ducts to the heating and air conditioning system when there's not enough room for more ductwork.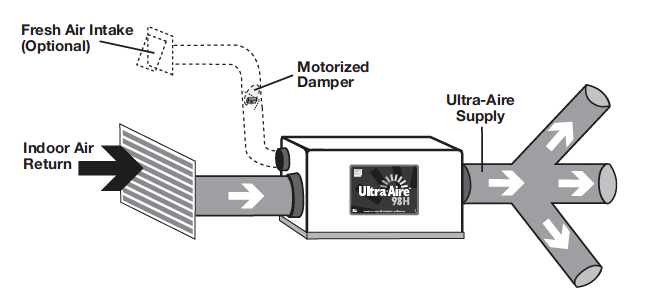 Pros. Excellent way to control humidity and ventilate at the same time. Can be very quiet with the right equipment  ducted properly.  Inexpensive to operate if you choose a high-efficiency model.  One piece of equipment for ventilating and dehumidifying.
Cons. High first cost.
1. Energy recovery ventilator with supplemental dehumidification
An energy (technically enthalpy) recovery ventilator (ERV) has two air streams that exhange heat and moisture in a capillary core.  The air streams don't mix but allow the warmer air to give up a lot of its heat to the cooler air and the more humid air to give up a good amount of its moisture to the drier air.  That way you don't just send your expensive air outdoors without saving some of your investment.  A common misconception, however, is that an ERV will reduce the humidity in a house.  It doesn't.  An ERV is not a dehumidifier.  It actually adds moisture to the house.  It just adds less than you'd get without the recovery in an ERV.  Within a year, I'll have this type of system in my house, as I'm installing a Zehnder ERV and a Santa Fe Ultra dehumidifier.*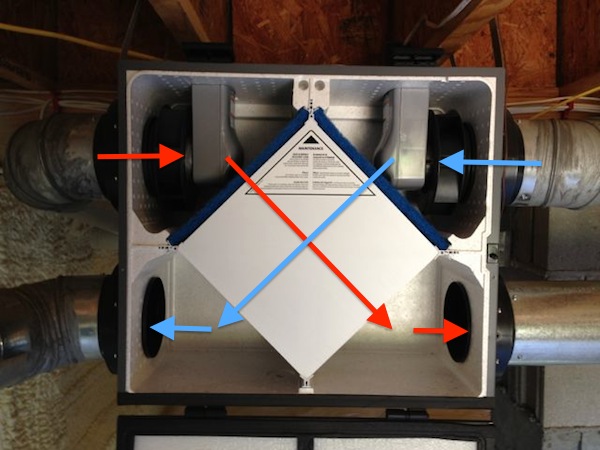 Pros. The ventilation happens with energy and moisture exchange, reducing the operating cost of ventilation.  Excellent humidity control.
Cons. High first cost. Two pieces of mechanical equipment.
1. A conditioning ERV
Another great way of ventilating homes in humid climates is with what's called a conditioning ERV.  The CERV2 is made by Build Equinox, and their primary focus is indoor air quality.  A similar system is made by Minotair.  This equipment is kind of like an ERV with a heat pump, but it doesn't have an ERV capillary core.  It brings in outdoor air, exhausts indoor air, adds a little bit of heating or cooling when necessary, dehumidifies, filters, and recirculates.  Read more about it in my article on ventilating with impunity.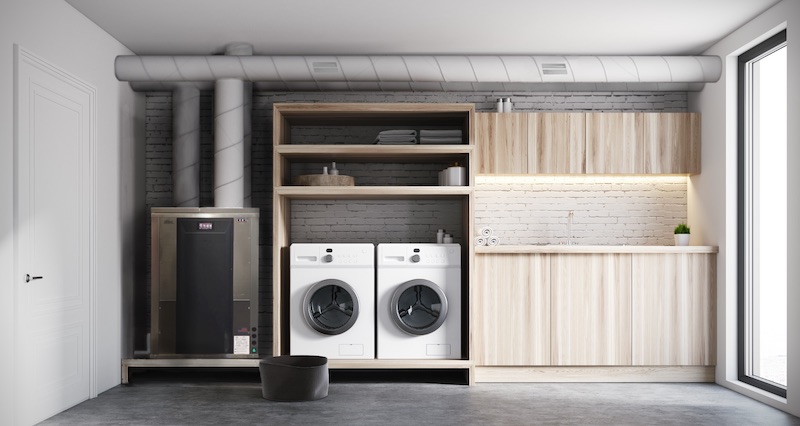 Pros. Excellent humidity control and indoor air quality. Well-designed equipment.
Cons. High first cost. Complex equipment.
Ventilating homes in humid climates is challenging.  The biggest issue is the humidity, so any ventilation system that doesn't include dehumidification may well lead to comfort and indoor air quality problems. The last three of the six options above are the best and all include a way to dehumidify the air.
Allison Bailes of Atlanta, Georgia, is a speaker, writer, building science consultant, and the founder of Energy Vanguard. He has a PhD in physics and writes the Energy Vanguard Blog. He is also writing a book on building science. You can follow him on Twitter at @EnergyVanguard.
Related Articles
An Energy Recovery Ventilator Is NOT a Dehumidifier
We Need Higher Ventilation Rates. But How High?
4 Ways to Do Balanced Ventilation
* This is an affiliate link. You pay the same price you would pay normally, but Energy Vanguard may make a small commission if you buy after using the link.
NOTE: Comments are moderated. Your comment will not appear below until approved.