Do Women Need Warmer Temperatures Than Men?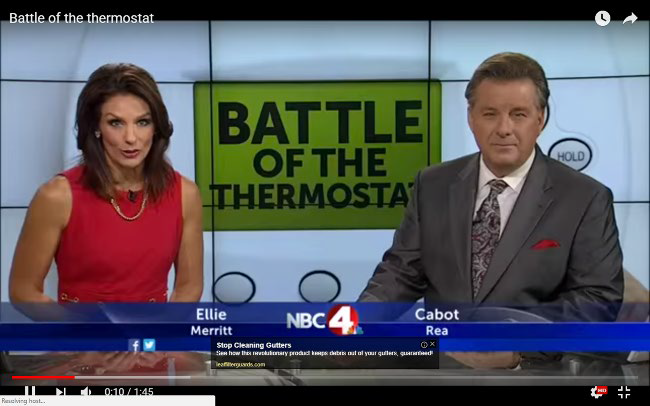 Oh, how the news media love the "thermostat wars" between men and women. It's a good source of stories based on conventional wisdom and the occasional (faulty or incomplete) research paper. The utility companies want in on the action, too. I've seen television ads for gas companies trying to convince viewers that just switching fuels will eliminate the battle over the thermostat. But do women really need warmer temperatures than men?
Guess what.  The idea that mean and women have widely different internal thermostats is dead wrong. Let's clear this up with the summary from the ASHRAE Handbook of Fundamentals.  Based on many decades of research, they say:
The experiments show that men and women prefer almost the same thermal environments. Women's skin temperature and evaporative loss are slightly lower than those for men, and this balances the somewhat lower metabolism of women. The reason that women often prefer higher ambient temperatures than men may be partly explained by the lighter clothing often worn by women.
The image above of two newscasters talking about the "Battle of the Thermostat" couldn't make the point any better. The man is wearing a button down shirt, tie, and coat (and probably an undershirt as well) while the woman is a wearing a sleeveless blouse.
So, the next time you're in a room with a man who happens to feel warmer than a woman, don't automatically jump to the conclusion that it's simply because he's a man and needs lower air temperatures to feel cool enough.  When you account for all of the factors of comfort, both personal and environmental, the research is clear.  So, do women need warmer temperatures than men?  No.
Note:  If you'd like to dive into this topic and really learn how to apply the principles of thermal comfort to buildings, get yourself a copy of Robert Bean's free book, Thermal Comfort Principles and Practical Applications for Residential Buildings.  (Yes, it's free!)
Allison Bailes of Atlanta, Georgia, is a speaker, writer, building science consultant, and the founder of Energy Vanguard. He has a PhD in physics and writes the Energy Vanguard Blog. He is also writing a book on building science. You can follow him on Twitter at @EnergyVanguard.
Related Articles
Thermal Comfort: Everyone Wants It but Few Know the ASHRAE Standard
How Can Replacing a Furnace Make You Less Comfortable?
NOTE: Comments are moderated. Your comment will not appear below until approved.