We Need Higher Ventilation Rates. But How High?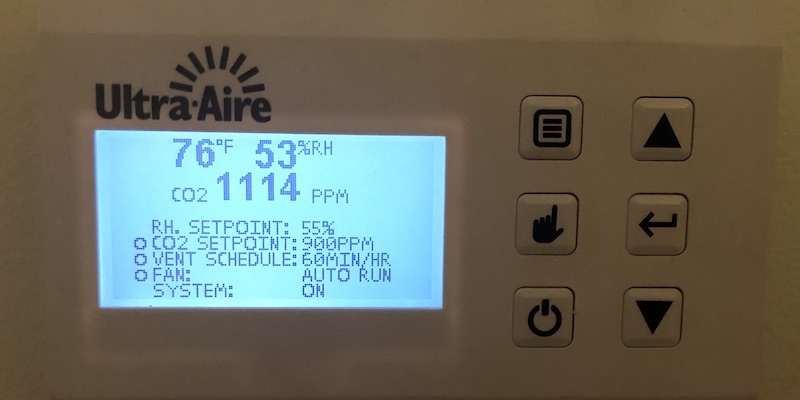 The COVID-19 pandemic has changed a lot of things, including my view on higher ventilation rates.  A few years ago, Joe Lstiburek of Building Science Corporation pushed hard for lower ventilation rates.  He believed ASHRAE's residential ventilation standard (62.2) resulted in homes being overventilated.  That is, he thought the ventilation rates resulting from following ASHRAE 62.2 wasted energy because there was little to no epidemiological data to support higher ventilation rates.  He made some really good points, and I was in his camp.
I wrote a lot about this topic about eight years ago.  If you care to go back, you can read my article about Building Science Corporation's ventilation guidance, which they called standard BSC-01.  Perhaps the best place to understand the arguments on both sides of higher versus lower ventilation rates is the interviews I did with Joe Lstiburek, Paul Francisco, and Iain Walker.  My last update on the "great ventilation debate" was in 2018.  (Don't miss my rant about hyperbolic cotangents in that last one!)
But that all happened in the before-times.
Post-pandemic thinking
Although it took them way too long, the US Centers for Disease Control & Prevention (CDC) and the World Health Organization (WHO) begrudgingly admitted that COVID is airborne.  The aerosol scientists and indoor air quality researchers had been saying it for a year before the CDC and WHO finally came to their senses, but the word is out now.  The air you breathe can make you sick.  It can put you in the hospital.  It can kill you.  The main problem occurs indoors when you have multiple people breathing and rebreathing the same air.
The researchers I follow often talk about the need for really high ventilation rates, 5 or 6 air changes per hour.  They're mainly focusing on commercial and institutional buildings with those recommendations, though.  But, as they'll tell you, you can get some of those air changes with high-MERV filtration.
For homes, though, you don't need as much ventilation because you don't have as many people indoors as in a school, store, or office building.  It's also really difficult to get that much ventilation in a home because often there's just not enough space for the ducts and the equipment to do it.
Air changes, cfm, and cfm per person
Let's get the units out of the way first.  I mentioned air changes per hour already, and that one is easy to visualize.  One air change is when a volume of air equal to the volume of the house moves through the building enclosure into the house.  That can happen through a combination of mechanical ventilation (fans), natural ventilation (open windows), and infiltration (air leakage).  Factoring in the time span over which the air changes happen, you can specify a ventilation rate in terms of air changes per hour (ACH).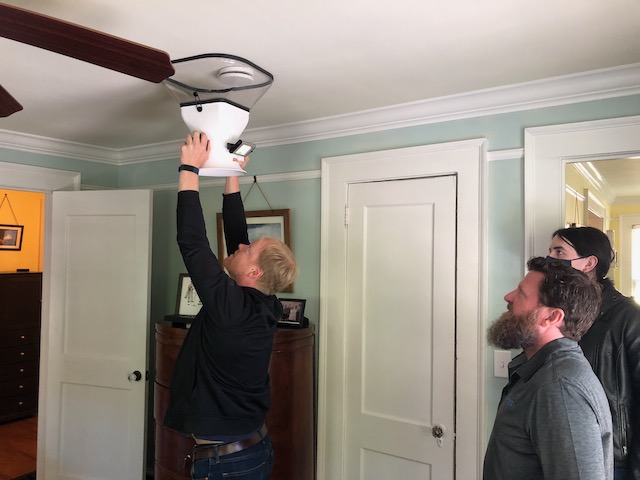 Air changes are a nice way to visualize ventilation.  But mechanical ventilation happens with fans that measure the air flow rate in units like cubic feet per minute (cfm), cubic meters per hour, or liters per second.  That's what you need to know when you're specifying the ventilation equipment.  That's also the number you get from following a standard like ASHRAE 62.2 or the ventilation requirements in the International Residential Code (IRC).
Air changes per hour and cubic feet per minute measure the same thing:  ventilation rate.  Sometimes people talk in ACH and other times it's cfm, but there's an important difference.  Air changes per hour scale with the size of the house; a rate given in cfm doesn't. You can take a ventilation rate in air changes per hour and apply it to any house.  If you see a ventilation rate in cfm, it applies to a specific size house with a certain number of people in it.  It's possible to generalize cfm rates, though, by specifying them in terms of cfm per person.  And that takes us to…
Recommended ventilation rates
One possible starting point for deciding on the ventilation rate is to go by what the codes and standards require.  The IRC and the ASHRAE 62.2 residential ventilation standard both use formulas based on the conditioned floor area of the house and the number of bedrooms.  The IRC, which uses the formula from Lstiburek's BSC-01, says you need 1 cfm for each 100 square feet of conditioned floor area plus 7.5 cfm per person, with the number of people defined as the number of bedrooms plus one.
ASHRAE 62.2 is the same format with one change:  it uses 3 cfm per 100 sf of floor area.  ASHRAE 62.2 lets you take credit for infiltration and use a lower ventilation rate if the house gets a blower door test, but let's ignore that for this discussion.  In tight houses, the infiltration credit is small.  In leaky houses, infiltration varies a lot with conditions.  Your average infiltration rate may be 0.2 ACH, but sometimes it might be 1 ACH and other times 0.01 ACH.  If you're going to add mechanical ventilation to a leaky house, go ahead and put in a system that can bring in all the outdoor air you need.  That also covers you for making the house more airtight.
Using those two formulas, we can calculate that a 3,000 sf house with 3 bedrooms would need 60 cfm under the IRC rule and 120 cfm using ASHRAE 62.2.  Another way to look at the ventilation rate would be in terms of air flow per person.  With the four hypothetical people in this house, that would be 15 cfm person (IRC) or 30 cfm per person (62.2).  For reference, the historical range of recommended ventilation rates is 4 to 60 cfm per person.
We can also specify the ventilation rate in air changes per hour.  For that 3,000 sf, 3-bedroom house that would need 60 cfm (IRC) or 120 cfm (ASHRAE 62.2), we can find the equivalent rates in air changes per hour.  Assuming a 9 foot ceiling height, those ventilation rates would be 0.13 ACH (IRC) and 0.27 ACH (ASHRAE 62.2).

Using the house of our example, we can find that the historical range of recommended ventilation rates is 0.04 ACH (4 cfm per person) to 0.53 ACH.  The 1989 version of ASHRAE's residential ventilation standard required a minimum rate of 0.35 ACH.  Some ventilation designers use that as their continuous ventilation rate.  On the high end, 0.5 ACH is about the limit of what's reasonable in homes.  Table 1 above shows the various rates and metrics discussed here.
How much ventilation is enough?
The amount of ventilation you need in a house is, of course, a moving target.  When no one's home, you might not need to ventilate at all.  With just the family at home, you'll need some ventilation.  During that big 120th birthday celebration, you'll probably need a lot (unless people are outdoors).
One way to handle changing ventilation needs is to have a ventilation system that can operate at different rates.  The Zehnder energy recovery ventilator (ERV) that I'm installing at my house can do that, as can the Renewaire ERV installed and the Broan ERV being installed in the homes of Energy Vanguarders Jeffrey Sauls and Luke Bertram.  You can commission these ERVs to run at the continuous rate you choose during normal conditions.  If you need more ventilation, you can hit the boost button, and the ERV ramps up to a higher rate.
Focusing on the normal, continuous ventilation rate, though, what number should you choose?  As I said at the beginning, I'm in favor of higher ventilation rates now.  I like the 0.35 ACH rate for ventilation systems with recovery of heat (HRV) or heat and moisture (ERV).  If you're using an ERV with high sensible and latent heat recovery, it allows you to ventilate at a higher rate with impunity.  So do it!  And get a system that can boost up to about 0.5 ACH.
But you have to consider other factors when deciding on your ventilation rate.  Balanced ventilation with recovery (ERVs and HRVs) aren't the only type out there.  With supply-only or exhaust-only ventilation, you may want to go with a lower rate and the ASHRAE 62.2 rate is a good number to shoot for.  When outdoor pollution is high, whether it's particulates from wildfires or ground-level ozone, you'll want to pull in less outdoor air.  And if you have a really good high-MERV or HEPA filtration system, you can ventilate less.
The COVID-19 pandemic has been an eye-opener.  Indoor air quality is critical in helping us get through it (as is the vaccine), but let's not let it stop there.  Let's use the pandemic as a springboard to make permanent, long-term changes in how we deal with indoor air quality.  The answer, as I've said before, isn't electronic air cleaners of dubious effectiveness.  It's source control, ventilation, and filtration.  And to get the most out of mechanical ventilation in our homes, we need higher ventilation rates.
Allison Bailes of Atlanta, Georgia, is a speaker, writer, building science consultant, and founder of Energy Vanguard. He is also the author of the Energy Vanguard Blog and is writing a book. You can follow him on Twitter at @EnergyVanguard.
Related Articles
How to Ventilate a Home With Impunity
3 Ways to Get Cleaner Indoor Air With Filtration
Lstiburek Has New Ventilation Standard—Resistance May Not Be Futile
COVID Is Airborne — Are You Feeling Lucky?
NOTE: Comments are moderated. Your comment will not appear below until approved.