7 Steps to Commissioning a New Home & HVAC System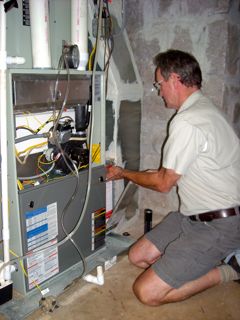 Ken Fonorow is a friend of mine whom I've known since my days on the Gainesville Energy Advisory Committee when I was in grad school in the mid-'90s. He's also helped build the market for ENERGY STAR and high performance homes in Florida. When I saw him last year at the Southeast Building Conference, he told me about a paper he'd written with the folks at the Florida Solar Energy Center about commissioning new homes and their HVAC systems, and it's got some great advice for ensuring that good design is leads to high performance. (It also helps maximize the performance of bad design, but let's not discuss that.)
Ken Fonorow is a friend of mine whom I've known since my days on the Gainesville Energy Advisory Committee when I was in grad school in the mid-'90s. He's also helped build the market for ENERGY STAR and high performance homes in Florida. When I saw him last year at the Southeast Building Conference, he told me about a paper he'd written with the folks at the Florida Solar Energy Center about commissioning new homes and their HVAC systems, and it's got some great advice for ensuring that good design is leads to high performance. (It also helps maximize the performance of bad design, but let's not discuss that.)
In the paper, they discussed how they worked with two production home builders in the Building America program. The purpose was to develop methods that would lead to more energy efficient homes, and here are the 7 steps they identified for commissioning new homes:
Testing for Air Leakage. A leaky house doesn't perform well, as it loses conditioned air and allows unconditioned air into the house.
Testing for Duct Leakage. Same applies to the ducts.
Pressure Mapping. A home that has pressure imbalances has more air leakage. For example, when you close a bedroom door and the conditioned air that your HVAC system pumps into the room has no return path to the air handler, it'll find holes to the outside more easily. This test looks for those pressure imbalances.
Outside Air Flow Measurement. A high performance home brings outside air into the house intentionally with a mechanical ventilation system. The amount of air you bring in must meet the design or your heating and cooling system could be overwhelmed and your home inefficient and uncomfortable.
Total External Static Pressure. A forced air heating and cooling system has two parts: the equipment and the distribution system (the ducts). If the ducts aren't designed or installed properly, the blower in the equipment fights against a high static pressure cannot push enough air out into the duct system to keep the house comfortable.
Temperature Drop for Air Conditioners. An air conditioner working properly should have a temperature drop (ΔT) of about 20° F. This is an easy way to find problems. (Furnaces also should be tested for temperature rise, but the Floridians who wrote this paper didn't address that.)
Exhaust Fan Air Flow Measurement. Because of numerous installation problems, most bath fans get about half their rated air flow. Find this problem before anyone moves in.
You may notice in reading the list that some of the items are clearly in the HVAC contractor's bailiwick, but others are not. There's usually not a single person assigned to looking at the house as a system to ensure that the principles of building science don't get subverted.
If the home builder makes sure that someone does this commissioning, whether it's the HVAC contractor, a home energy (HERS) rater, or someone else, the home is much more likely to perform well. That's good for the people who live in the home and good for the builder and trade contractors, as they'll have fewer callbacks.
Of course, commissioning must be preceded by integrated house design and good HVAC system design. In the bigger picture, the steps are:
Design
Execute
Commission
Download the FSEC commissioning paper.
.