A Vivid Demonstration of the Benefit of Exterior Insulation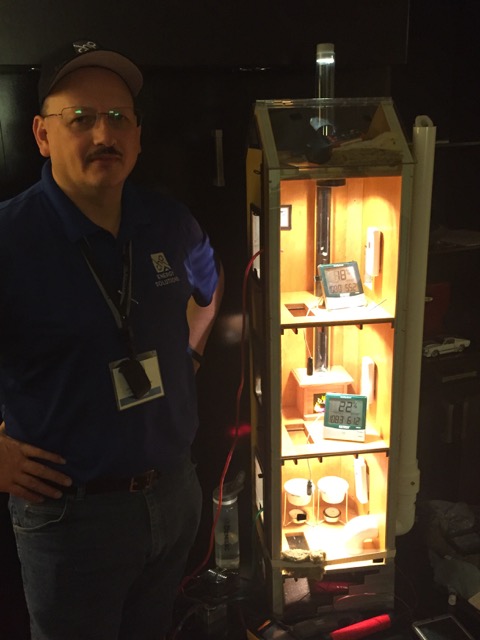 A couple of weeks ago I caught up with Anthony Cox at the Air Barrier Association conference in Baltimore. You may know Anthony as the inventor of the House of Pressure, a great model for demonstrating backdrafting, zonal pressure differences, and other building pressure phenomena. Well, now he's got a new toy and he brought it to Baltimore for the conference.
It's a taller model that he can use to demonstrate stack effect, but what I found most interesting was his vivid demonstration of the difference between interior and exterior insulation. Most people who go to conference hospitality suites do so to drink and socialize…uhhhhhh…I mean, to network. Anthony goes there to show people his new toy.
I'll make this quick because I'm writing on a plane to Austin for the ACI National Conference right now. If you're going to be there, maybe you'll get a chance to see this in person.
Here's what he did. He closed up the demo house, put a couple of pots of water to boil down in the basement, and then watched as condensation started forming. In the first photo below, you can see condensation on the plexiglass wall, behind the interior insulation.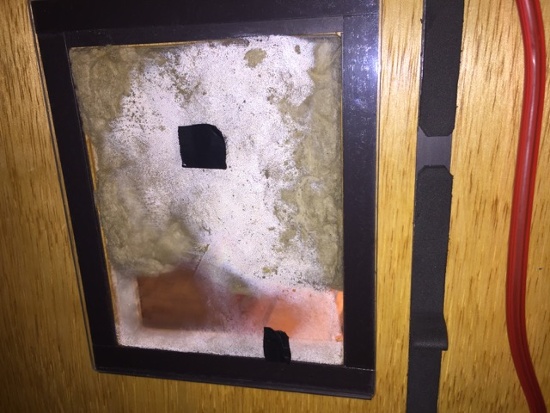 In the second photo, you can see condensation on the interior side of the plexiglass on all the uninsulated area. But there's no condensation on the wall behind the exterior insulation. Wow!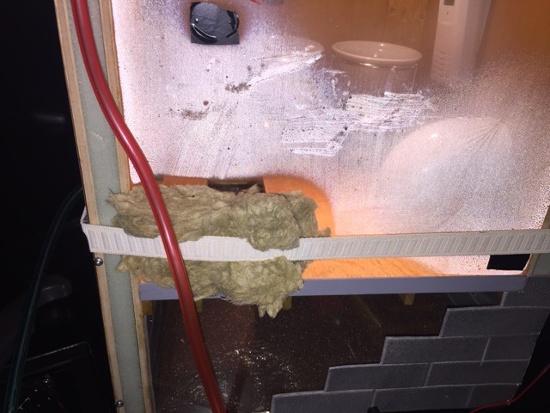 Last year I wrote about the Building Science Corporation study of double-stud walls with a foot of insulation. What they found when they opened the walls after three years was that condensation had formed on the inside of the exterior sheathing. That's the case in the middle photo above.
When you put insulation on the exterior of a building, you get two big benefits: Continuous insulation and warmer sheathing. The latter is what Anthony demonstrated in Baltimore, and it's a significant benefit. Keep the sheathing above the dew point and you don't collect moisture there. Moisture accumulating in exterior sheathing can create durability problems as well as indoor air quality problems if it starts growing mold.
Dr. Joe Lstiburek put it best: If you want to stay warm, you wear your sweater on the outside. You don't eat it. Likewise with buildings.
Related Articles
Dew Point — A More Meaningful Measure of Humidity?
Is This the End of the Double-Wall, Cold Sheathing Scare?
Moisture and the Quirkiness of OSB
NOTE: Comments are moderated. Your comment will not appear below until approved.