Balanced Ventilation for a Not-So-Old House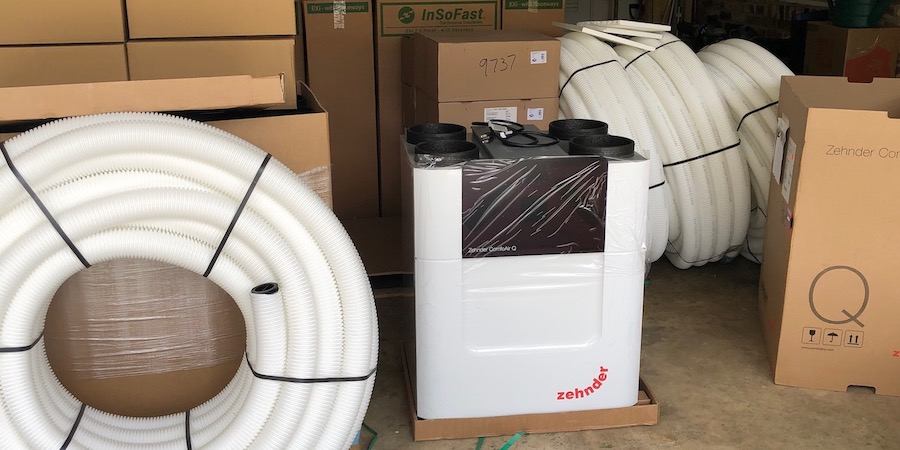 You may recall that I bought a ranch-style house a couple of years ago and have been doing some work to improve it.  The house was built in 1961, so it turns 60 years old this year.  That may seem old to some people, but I think it's actually still young and sprightly!
How leaky is my house?
But home builders in 1961 didn't pay much attention to making homes airtight.  In fact, they probably hadn't even started claiming that "a house needs to breathe" because pretty much no one was arguing otherwise, especially in Atlanta, Georgia.  I don't know what the air leakage in the house was before 2012, but I know it had to be a lot leakier than it is now.  Here's a little history of the air sealing and air leakage measurements over the past decade.
2012 – My father-in-law, from whom we bought the house, had the attic encapsulated with open-cell spray foam insulation.  It was a pretty bad job, and I've got articles and videos on that and what we did to fix it coming this year.
2015 – My father-in-law  had the crawl space encapsulated and some other air-sealing work in the basement done by PV Heating & Air.
2019 – I bought the house and did a blower door test.  The result came in at 6,650 cubic feet per minute with the pressure difference between the house and outdoors at -50 Pascals (cfm50), which translates to 11.3 air changes per hour at 50 Pascals (ACH50).
2019 – Woodman Insulation came in and added more open-cell spray foam insulation (made by SES Polyurethane Systems).
2019 – Blower door test results:  5,220 cfm50, 8.8 ACH50.  That's 2.5 ACH50 lower than before I had more foam sprayed in the attic.  Nice decrease!
2019 – I had all the soffits, fascias, and gutters replaced and seized the opportunity to do more air-sealing and insulation above the exterior wall top plates.
2019 – Blower door test results:  5,018 cfm50, 8.5 ACH50.
So yeah, my house turns 60 years old this year, but at 8.5 ACH50, it's not that much worse than the Georgia requires for new homes (5 ACH50).  I've tested homes younger than this one that acted much more geriatric, with air leakage numbers twice as high as my house.  And when I get to gutting and remodeling my basement, I'll make it even tighter.
Ventilating dehumidifier or enthalpy recovery ventilator (ERV)?
Until recently I hadn't decided which way I'd go for ventilation.  We have an Ultra-Aire ventilating dehumidifier at the Energy Vanguard office, and I like that approach.  I'll be adding some dehumidification later, but I'm going with an enthalpy (or energy) recovery ventilator (ERV) for our mechanical ventilation system.
And which ERV am I getting?  Actually, it arrived yesterday, and it's the Zehnder ComfoAir Q600.  Most people who deal with high-performance homes will tell you that Zehnder makes the most efficient and elegant mechanical ventilation systems.  It's the dream system for people who know residential ventilation.
And it's not cheap.  I'll be honest.  I'm not a rich guy and am behind on saving for retirement (not that a young person like myself is thinking about retiring) so even though the Zehnder ERV is a the Rolls Royce—sorry, the Tesla—of ERVs, I might not have gotten one on my own.  But the folks at Zehnder America gave this system to me, knowing that I'd tell you about it and you might decide to get one for yourself.  There's my disclosure.  Still, ask around and you'll find to be true what I said about Zehnder being the most esteemed name in balanced ventilation systems.
Balanced ventilation arrives…sort of
Yesterday three pallets of Zehnder ERV equipment arrived at my house.  You can see some of it in the lead photo of this article.  The ERV itself will go into my basement mechanical room, next to my heat pump water heater.  Since I'm going to gut and remodel the basement, I'll be using the ERV just for the main floor at first.  I'll run the ComfoPipes up to the encapsulated attic.  Use the ComfoTubes to distribute the ventilation air to the rooms.  I'll have boost switches to ramp up bathroom and kitchen exhaust when we need more ventilation.
Here's a little video I made of the "unboxing" after I got the delivery yesterday.
It's going to take me a little while to get the system up and running because I've got a bunch of people waiting for a book they pre-ordered and that I have to finish writing.  (Here's my
book update page
.)  But I'll provide occasional updates here as things progress.
Meanwhile, I'm counting on my young and sprightly house to help keep me young and sprightly.  Because I am a mere seven days away from turning 60 years old myself!
Allison Bailes of Atlanta, Georgia, is a speaker, writer, building science consultant, and founder of Energy Vanguard. He is also the author of the Energy Vanguard Blog. You can follow him on Twitter at @EnergyVanguard.
Related Articles
My New Project: A 1961 House With Home-Performance Angst
Seizing an Air-Sealing and Insulating Opportunity
My Undersized Ducted Mini-Split Heat Pump
NOTE: Comments are moderated. Your comment will not appear below until approved.