Beware of Roofers in Homes with Spray Foam Insulation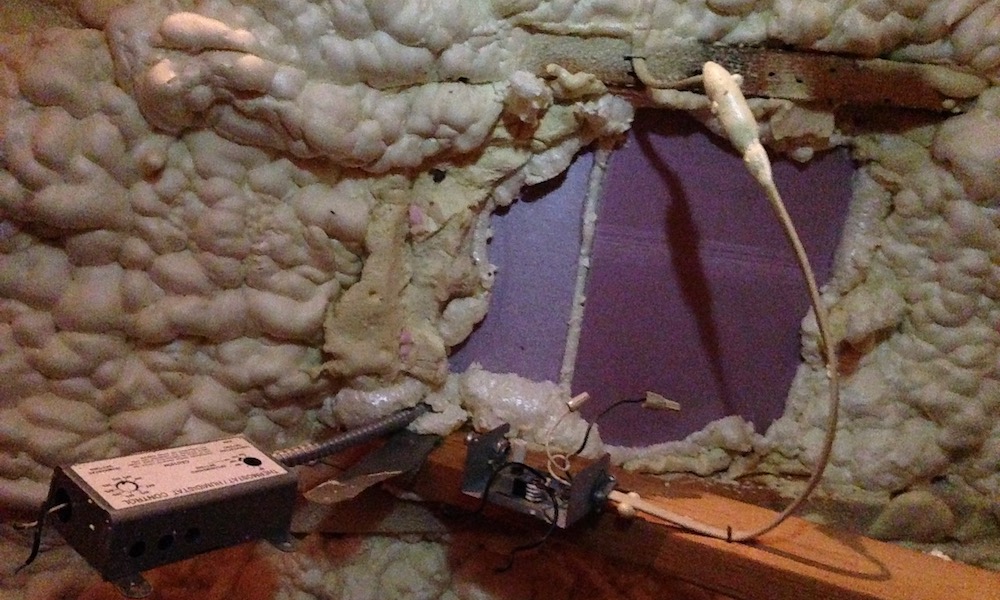 You have two choices when change happens: You can embrace it, or you can fight it. Some parts of the home building and home improvement industries are in the first camp. These are the home performance contractors, green builders, and spray foam insulation contractors. Some are in the latter camp. They could be in any trade really — insulation, HVAC, drywall. But today I'm focusing on roofers because of something I saw recently.
Attic ventilation and spray foam don't mix
That photo above is from an existing home that had spray foam insulation installed in the attic over the master bedroom. What you're looking at there is the place where a power attic ventilator had been. You might be thinking, well, what's wrong with that? Clearly the fan is gone now, as it should be in a sealed attic. Right?
Yes indeed. One of the biggest benefits of using spray foam is to get greater airtightness. That means you get rid of attic ventilation, whether it's passive (ridge, gable, soffit vents) or active (fans). Actually, you should get rid of power attic ventilators whether or not you're sealing the attic, but that's another article. The point I'm making here is that a sealed attic should be, well, all sealed up.
What the photo above shows, however, is that the power attic ventilator that was removed from that hole came out after the spray foam went in. In this case, it also was installed after the spray foam went in. Oops!
This particular attic already had enough air leakage from poorly installed spray foam. The fan made it much worse. The house is here in Atlanta and had serious moisture problems because of all the humid air the fan (and leaks) introduced into the supposed-to-be-sealed attic.
Educate your roofer
Some roofers understand the new things we do with homes these days in the name of building science. Most don't. They know roofing materials, underlayments, flashing, and attic ventilation. Some know more than others, of course, but you should probably assume the worst any time a roofer comes to your spray foam insulated home.
Tell them the attic is to have no ventilation of any type. The photo above shows the scar from a power attic ventilator installed in a spray foam attic, but I've heard of several cases where roofers installed—or tried to—ridge vents.
Sealed attics should not have any type of attic ventilation connecting it to the outside.
Update, 23 Oct. 2022:  Attics encapsulated with spray foam insulation on the underside of the roof deck should be treated as conditioned attics.  In humid climates with open-cell spray foam, the attic humidity can be very high in the summer and can damage the roof if you don't do something about it.  One method is to use a small exhaust fan, which is what I do in my house.  But this ventilation is at a lower rate and is more controlled than what the article above is focused on.