Big Blowout in the Plastic PortaPotty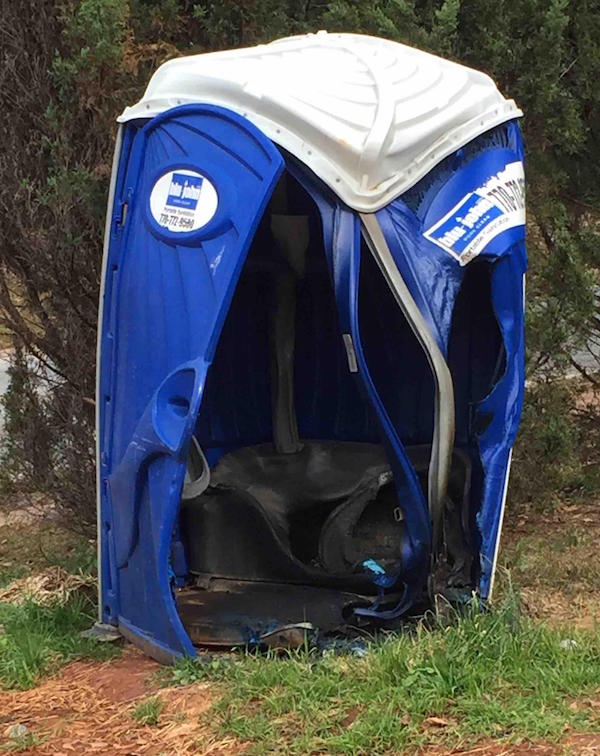 I saw this portable toilet yesterday at a new home job site. I'd actually seen it a few days earlier from the road and thought maybe someone had backed into it with their truck. Yesterday I drove in to see if I could talk to the builder and found that the damage was of a different sort. And that got my mind to wondering…
I saw this portable toilet yesterday at a new home job site. I'd actually seen it a few days earlier from the road and thought maybe someone had backed into it with their truck. Yesterday I drove in to see if I could talk to the builder and found that the damage was of a different sort. And that got my mind to wondering…
What the heck happened here? Was it:
A. "I knew I shouldn't have had all those beans last night."
B. "Hey, that wasn't my cigarette!"
C. "I hope he can tell us what happened when he gets out of the hospital."
Or was it something else completely? Whatever happened here, though, I'm betting it wasn't as bad as what happened to the poor guy in the portable toilet on this job site.
I love working in this field! You just never know what you might see when you visit a construction site.
Related Articles
17 Reasons I Love Working with Buildings
Insulation to Go – Creativity in the Attic
Surrealistic Home Performance Q&A Inspired By A Chicken
NOTE: Comments are moderated. Your comment will not appear below until approved.