Does Your Bonus Room Need More Air Conditioning?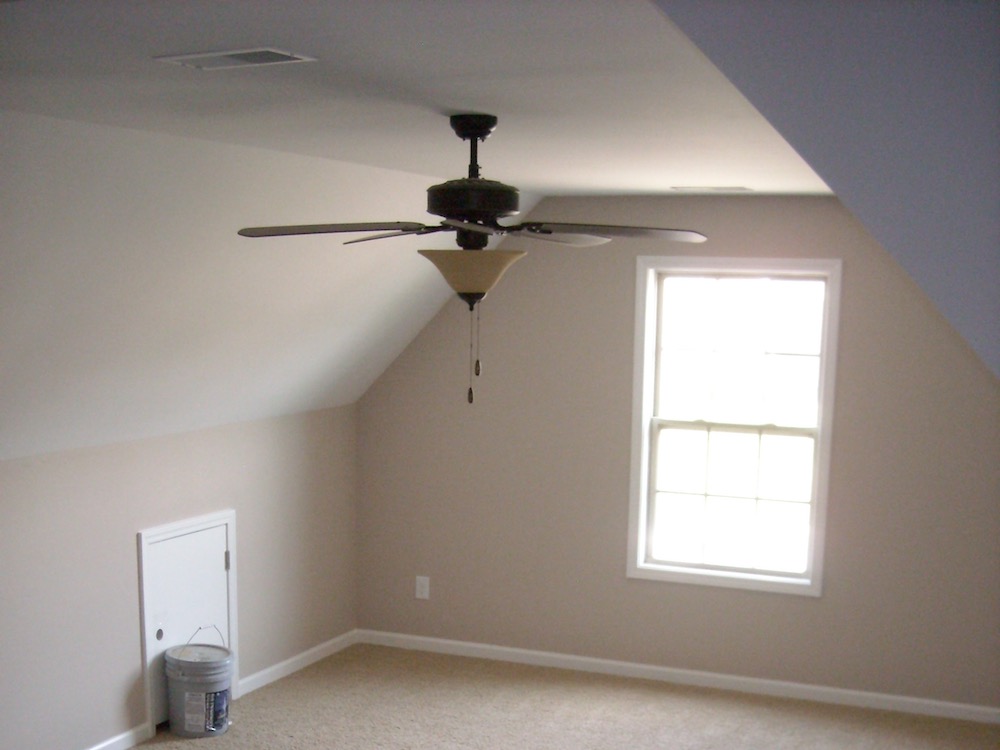 You know what a bonus room is, right? It's more descriptively called a FROG, for finished room over garage, and it typically has vaulted ceilings and attic kneewalls (more on that later). I love the name FROG for this room, but it seems to be a regional thing.
Now, do you know who gets the bonus from the bonus room? All the contractors who have to come in and try to fix the problems left by the original builder of the home, that's who!*
Bonus rooms probably generate more comfort complaints than any other room in the house, and this time of year, the complaint is that they're too dang hot! Now, if you have a room that's too dang hot, your first reaction might be that it needs more cooling because that dadgum builder hired an HVAC contractor who was a dirty, thievin' varmint who put in an air conditioner that was too small.
As many problems as bad HVAC contractors cause, however, they're not the main culprits in bonus room problems, at least not by putting in undersized air conditioning systems. No, the problems here stem from the building envelope. Remember, there's two sides of the air conditioning equation: Heat comes in, and the air conditioner has to remove it. If your bonus room is too hot, I'll wager that the problem is with the amount of heat coming in, not your air conditioner's capacity to remove heat.
A bonus room is special because in summer, it has a lot of surface area that's in contact with hot places. I'm talking about the attic, which gets up to about 5000 degrees (well, OK, about 130° F), and the roof, which gets even hotter. If you don't believe it, just look at this artistic drawing I did to show all the heat coming in.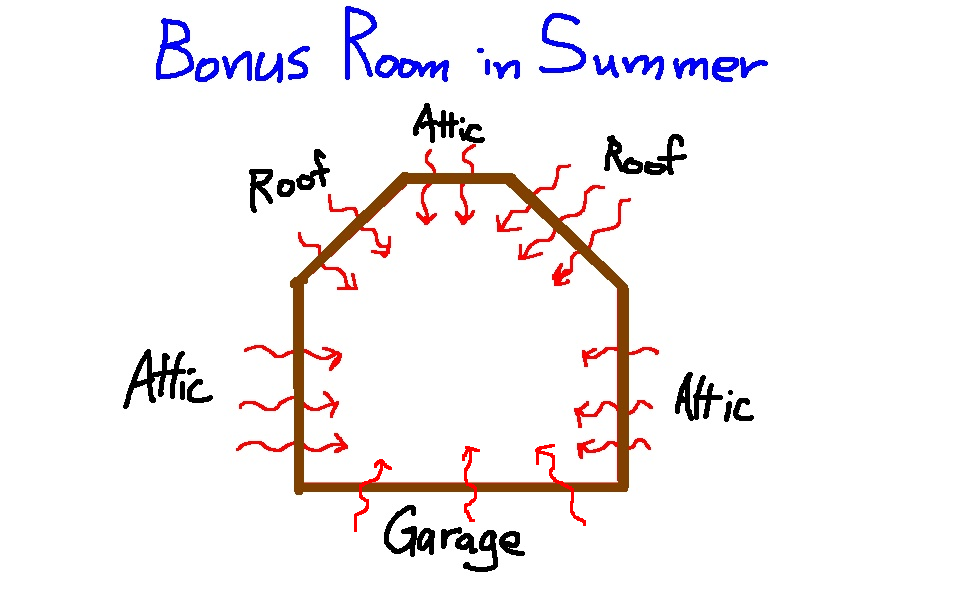 It works similarly in winter time if you reverse the arrows showing the heat flow. In summer, though, the bonus room is worse than other rooms in the home because the attic and the roof are hotter than the outdoor air.
So, to help you understand why your bonus room doesn't work, here are the main problems:
Floor
Often the floor joists run under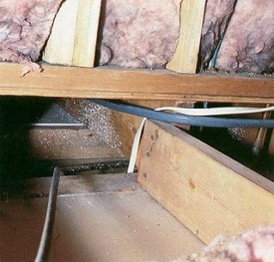 the kneewalls and have nothing to stop attic air from going right up under the bonus room floor. Remember, fiberglass and cellulose aren't air barriers. Those joists need to have a rigid air barrier material between them and then be sealed at the edges.
Also, the fiberglass batts usually used to insulate the floor are not in contact with the air barrier, a major no-no that you learn in Building Science 101.
Attic Kneewalls
The attic kneewalls, which separate conditioned space from unconditioned attic, often have no sheathing over the insulation on the attic-side. Fiberglass batts in walls need to be fully encapsulated to work properly. Also, without sheathing to hold them in place, the batts often fall out of the wall or come away from the drywall.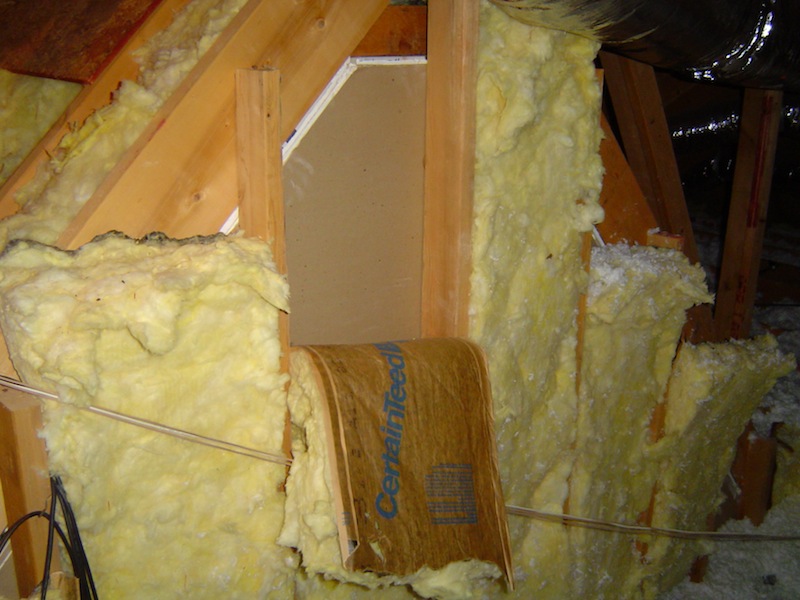 Another problem is that the kneewalls often don't have a top plate, with the studs being nailed directly to the rafters. This also prevents the insulation from being fully encapsulated.
For more about kneewalls, and how you can fix them, see my article Your Connection to the Blast Furnace.
Vaulted Ceiling
Oh, so many problems. Where do I start? One common mistake with bonus room vaulted ceilings is the use of recessed can lights (see photo at top). As I've discussed before, can lights are a liability when used in the building envelope, even when you get the ICAT (insulation-contact air-tight) models because they displace insulation. In some cases, they might even create a direct thermal bridge from the roof deck to the ceiling. If they're not ICAT, they also introduce a lot of air leakage.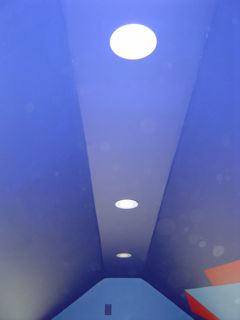 I once worked on a newly remodeled house in which the son's bedroom was uninhabitable for large periods of time in the summer. The problem was can lights (photo left) coupled with a huge negative pressure because the central return for the second floor was placed inside this bedroom. Really! When the air conditioner ran, it sucked lots of hot attic air right into the room, and the ceiling near those lights got to temperatures well above 100° F.
Another problem with vaulted ceilings, at least here in the Southeast, is that builders use "tradeoffs" to put in less insulation than is required for flat ceilings. Here in Atlanta, code requires R-38 for ceilings, but builders can use tradeoffs to put as little as R-20 in vaulted ceilings. Couple that with a higher temperature difference because the roof is very hot, and you can get a lot of heat gain here.
One more problem is that vaulted ceilings are often vented, meaning that there's a baffle at the top of the cavity meant to allow outside air to come in at the bottom and exit at the top, to keep the roof a bit cooler and let less heat flow into the house. The problem is that air doesn't think like we do. It's crafty. It's devious. It does whatever it wants to do, despite all our planning and technology.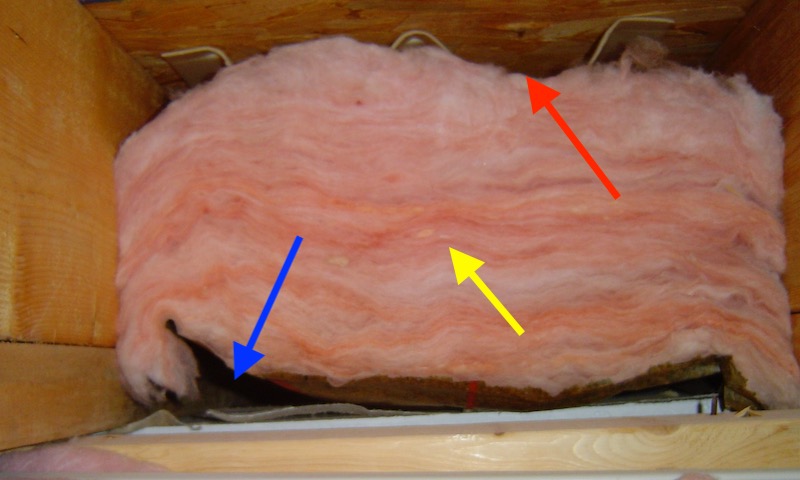 The photo above shows what often happens with fiberglass batts in vented cathedral ceiling assemblies.  The air sees the gap above the insulation (red arrow), which is where it's supposed to go.  But it also sees that nice space to run right through the fiberglass batt below the baffle (yellow arrow). Remember, fiberglass insulation does not stop air flow. Sometimes it even sees gaps below the fiberglass batt (blue arrow) and runs right along the ceiling drywall.
Why a Bigger Air Conditioner May Not Help
OK, so your bonus room has a lot of extra heat coming into it, and you're not comfortable being there in the hottest parts of the day. You may well have an air conditioner that's greatly oversized already and has little difficulty getting the air temperature down. Still, you feel hot. Why is that?
The answer lies in the four factors of comfort and how we lose and gain heat, that is, our old friends from middle school science classes – conduction, convection, and radiation. The temperature of the air is only one way that your body gains or loses heat. Your body also constantly radiates heat in all directions and receives radiant heat from all the surfaces in the room.
If your body is the same temperature as those surfaces, you neither lose nor gain heat. If those external surfaces are cooler than you, then you cool off. If they're warmer than you, you get warmer. That's what's happening in a bonus room with the building envelope problems described above. The surfaces can get a lot warmer than the surfaces in the other parts of your home, so even when the air temperature feels fine, the bonus room feels warmer.
To make the bonus room comfortable, you have keep the heat out by beefing up the building envelope. It's all about controlling the flow of heat and air.
Allison A. Bailes III, PhD is a speaker, writer, building science consultant, and the founder of Energy Vanguard in Decatur, Georgia.  He has a doctorate in physics and is the author of a popular book on building science.  He also writes the Energy Vanguard Blog.  For more updates, you can subscribe to our newsletter and follow him on LinkedIn.

Related Articles
Your Connection to the Blast Furnace – Attic Kneewalls
How to Sheathe an Attic Kneewall — And How Not to
How to Insulate a Short Attic Kneewall
*I stole that line from Ed Voytovich, a fellow PhD home performance guy in upstate New York. Thanks, Ed!
Comments are closed.