Don't Let Your Attic Suck – Power Attic Ventilators Are a Bad Idea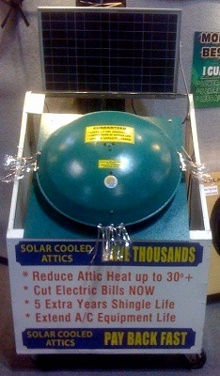 Trade shows can be both educational and infuriating, and there's one product I see at a lot of trade shows that fits easily into the latter category – power attic ventilators. The variety of this device that's been popular lately is the solar-powered attic ventilator. Using the Sun to make the electricity for this fan, however, makes it only marginally better than its grid-powered cousin.
Oh, yes, power attic ventilators will probably keep your attic cooler, and that means you'll have less conductive heat transfer across your ceiling. The problem is that a significant portion of the cooling in your attic will be provided by your air conditioner. So, you spend money to buy the fan, to run the fan if it's not solar, and then your air conditioning bill goes up, too.
How can that be, you ask? Isn't it supposed to pull that blazing hot air from the attic and send it outside, replacing it with much cooler outdoor air that gets pulled in through the soffit and gable vents? In marketing theory, yes. Building science shows a different result, however.
What really happens is that when that power attic ventilator runs, it's going to pull air from wherever it can find it. Since air takes the path of least resistance, some of it will most likely be coming from the conditioned space in your home. So basically what you're doing is air conditioning your attic. The longer the fan runs, the more conditioned air it pulls into the attic.
If you have a perfectly air-sealed ceiling, you're not going to have this problem, of course. The reality, however, is that few ceilings are leak-free. Since air needs only a pressure difference and a pathway to move, and your ceiling probably has plenty of pathways, it's best not to enhance any pressure differences that will increase air movement into or out of your home.
In other words, don't install that power attic ventilator. If you have some installed already, disable them so they never run.
Power attic ventilators can cause problems even without air conditioning. One potential problem would be sucking moist, moldy air up from the crawl space into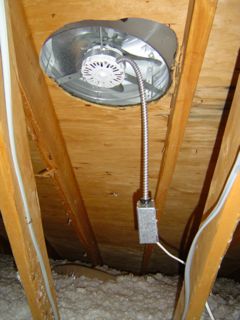 the house. Another would be backdrafting a water heater and putting carbon monoxide in the house. These are real problems from real houses that have really happened.
If you're tempted to buy one because it's solar-powered and won't increase your electricity bill, go back and read what I just said. These things probably won't save you any money. Even if they're solar, they'll still suck the conditioned air out of your house and make your bill higher, not lower.
Peter Yost over at Green Building Advisor wrote about solar-powered attic ventilators a couple of years ago and laid it out perfectly. He also gave a great quote by Dr. Joe Lstiburek:
"In order for the fan to work the air needs to come from the outside and not be pulled from the house so this means that the attic ceiling needs to be airtight. If the attic ceiling is airtight you don't need the fan. Your money is better spent on something else."
If you want to get into the nitty-gritty research data about attics, you can download this paper (pdf) from the Florida Solar Energy Center reviewing the research not only about attic ventilation but also about sealed attics with insulation at the roofline instead of at the flat ceiling.
The bottom line is that in most cases, power attic ventilators are a waste of money. In some cases, they can be dangerous because of backdrafting.
Related Articles
The #1 Reason Power Attic Ventilators Don't Help
Power Attic Ventilators Banned by New Georgia Energy Code
Oooh, Shiny Stuff! – Radiant Barrier Fundamentals
NOTE: Comments are moderated. Your comment will not appear below until approved.