Eccentric Lives, Peculiar Notions, & Building Science Absurdities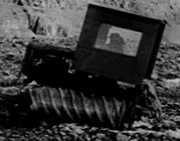 Some people, even in modern times, have believed the Earth is flat. Others believe that drilling a hole in their head will make them eternally happy. 
Some people, even in modern times, have believed the Earth is flat. Others believe that drilling a hole in their head will make them eternally happy.
An English bloke, Geoffrey Pyke, was a great and wild thinker, full of crazy ideas. One of them, hatched during World War II, was to build battleships out of ice. Actually, it was a mixture of ice and wood pulp that he called pykecrete, and indeed, it was strong. He described his idea to Mountbatten, who told Churchill, who relayed it to Roosevelt. They even built a prototype that lasted a whole summer in Canada. (Joe Lstiburek would be proud!)
Pyke's other ideas included a pipeline to unload soldiers and gear from ships to shore, screw-propelled troop transporters (photo above), and spraying supercooled water on enemy soldiers to encase them in ice. He made – and lost – a fortune in the commodities market and eventually committed suicide at the age of 54.
Another of my favorites is from the people who, even now, believe the Earth is round but that we live on the inside of the sphere, not the outside. It's true. I met a guy once who really believed this. He was from south Florida, near where Dr. Cyrus Teed did his experiments to prove it.
Their explanation is that you can determine the curvature of the Earth with a series of poles, shooting a level across them and measuring the height above ground as you go further away. Really! They did the experiments in south Florida in the last century, and they found that the further you went from your starting point, the closer your level line got to the ground. Clearly, the Earth curves upward as you go off into the distance. Right? You believe it, don't you?
The above stories all come from one of my favorite books, Eccentric Lives and Peculiar Notions by John Michell. I haven't found any building science stories yet that come close to rivaling the best 'peculiar notions' in that book, but I've reported on some bad ideas here over the past year and a half.
Some think that a house needs to breathe. Others think that foil-faced bubble wrap is good insulation. A medical doctor believed his HVAC contractor, who told him that his nasty, moldy air conditioner was OK because it was 'normal.' Recently, a fellow I know in Minnesota has been espousing the idea that, because some people do it wrong and cause problems, maybe we just shouldn't insulate houses. I'm really not kidding!
Today, though, I found a story that takes the building science cake. Martin Holladay, the famous Energy Nerd who muses publicly, wrote about Alton King of Longmeadow, Massachusetts. He's a former distributor of 'insulating' paint, which he hyped as being a replacement for regular insulation. You have to admire his dedication, though. He believed so strongly in his product that he built a 7300 square foot house and sprayed the inside of the walls and attic with it – using no real insulation at all. Although some coatings can help with air-sealing (if they're thick enough) and radiant heat transfer (if their emissivity is low enough), many companies that make these products promise way more than their products can deliver.
You really need to go read the story. Go on. I'll wait. And when you get back, we can tell some more stories about crazy people and wild ideas, and maybe, just maybe, we can come up with some ideas that could put building science on the same level as Geoffrey Pyke and Dr. Cyrus Teed.