Heat Pump Water Heaters: A Better Way to Heat Water with Electricity?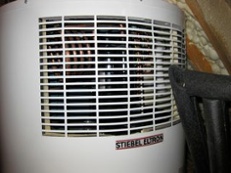 Last week, I was a judge in the LightHouse Awards green home competition put on by the Hilton Head Home Builders Association (HBA). Along with my fellow judges, I visited two homes in the Hilton Head area. We saw a lot of interesting things in these houses, but here I'd just like to discuss the heat pump water heater in one of the homes.
There are quite a few choices available in the water heater market these days. Most of them are cold water heaters, as the incoming water is cold and hot water doesn't need to be heated because it's already…you know…hot. (Sorry, I know almost everyone says 'hot water heater,' but it's one of those little things that drives me nuts, so I'm going to lay that burden on you now.)
Most water heaters are storage units that convert a fuel to heat and put that heat into water stored in a tank. Mostly, they get their heat either by burning natural gas or running electric current through a high resistance wire (like a toaster) and converting that electricity to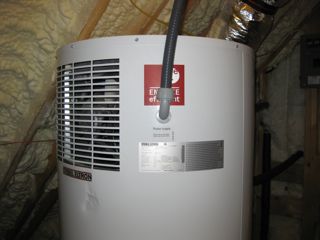 heat at 100% efficiency.
Tankless water heaters come in gas or electric models (though electric tankless water heaters are almost never a good idea), and they eliminate the standby loss of having to keep a tank of water hot. They don't do anything different to get the heat, though, except greatly ramp up the speed with which the heat can be dumped into the water.
Heat pump water heaters, on the other hand, are storage units that get their heat in a different way. It works on the same principle as your refrigerator or air conditioner – the refrigeration cycle. Rather than turning a fuel into heat, it moves heat from one place to another. It takes electricity and sucks up heat from one place and then delivers that heat to another place, care of a special substance called a refrigerant. Martin Holladay wrote a great description of the refrigeration cycle earlier this year. (Skip down to the Nuts & Bolts question.)
A refrigerator takes heat from inside the box and dumps it into the kitchen. An air conditioner takes heat from the house and dumps it into the air outside. A heat pump water heater pulls heat out of the air in the room where the water heater is located and dumps that heat into the water in the tank.
A standard electric water heater takes 1 kilowatt-hour of electricity, turns 100% of it into heat, and puts over 90% of that heat into the water. Energy Factor (EF) is the measure for this efficiency rating, and is generally around 0.9 for electric water heaters. A heat pump water heater takes that same kilowatt-hour of electricity and uses it to move about 3 kilowatt-hours of heat and put most of that into the water in the tank, yielding Energy Factors of 2 or higher.
Getting back to the inspiration for this article, one of the homes we visited for the LightHouse competition has a Stiebel Eltron Accelera 300 heat pump water heater, perhaps the Rolls Royce of heat pump water heaters. The schematic below shows how it's designed. It's basically a little air conditioner blowing cool air into the room. The condensing coil, which normally has air blowing over it to get rid of the heat pulled out of a house, is instead wrapped around the tank, putting heat into the water.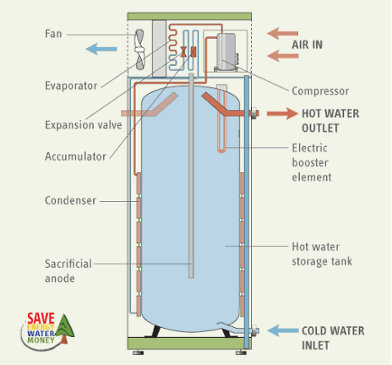 The Accelera 300 uses a different method of transferring heat to the water in the tank than the models recently introduced by GE, Rheem, and Ruud. As mentioned above, the Accelera has the condensing coil wrapped around the tank for heat transfer, whereas the other models use a pump to circulate water over the condensing coil. You can read a review of the Accelera 300 here, but be sure to check out the comments, too, where the author gives a lot more info about the product.
One ancillary benefit for warmer climates is that heat pump water heaters cool and dehumidify the room they're in. Of course, that's not a benefit if you live in Montana or Maine because the heat pump water heater will be robbing Peter to pay Paul. By pulling heat out of the room, you force your heating system to work harder, and in a cold climate, that's not such a good tradeoff.
The Accelera 300 water heater has an Energy Factor of 2.5 and appears to be a good choice in some applications. At about $3000 installed cost, however, it's not cheap. If you're paying cash, the payback on it will probably be 15 years or more, depending on your comparison scenario, hot water usage, and local rates.
Allison Bailes of Atlanta, Georgia, is a speaker, writer, building science consultant, and the founder of Energy Vanguard. He has a PhD in physics and writes the Energy Vanguard Blog. He is currently writing a book on building science. You can follow him on Twitter at @EnergyVanguard.
Related Articles
The 3 Types of Energy Efficiency Losses in Water Heating
Down the Drain! — Heat Recovery for Your Hot Water
Water Heating Is a System, Not Just a Water Heater
NOTE: Comments are closed.