A Highrise Hotel Window Head Scratcher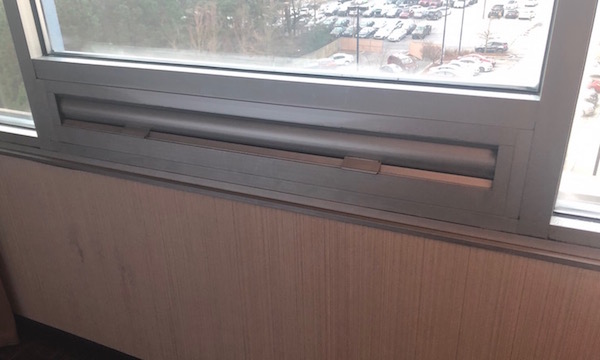 The ASHRAE conference and AHR Expo were in Atlanta last week. Because I live here, I didn't have to stay in a hotel but a lot of people I know came to town and did stay in hotels. One of them, John Rockwell of ERV & HRV manufacturer Zehnder, sent me the photo above of the window in his room in a hotel in the Buckhead area. It's a bit puzzling when you first walk into the room and see it.
But then you walk over to it and see that it's clearly where you get rid of the newspapers they put at your door each morning. You just open the giant mail slot and slide the paper out, where it flutters down to the street. But, like the fuel that commercial aircraft dump from high in the air when they have to land too soon, no one on the ground notices because it gets vaporized on the way down.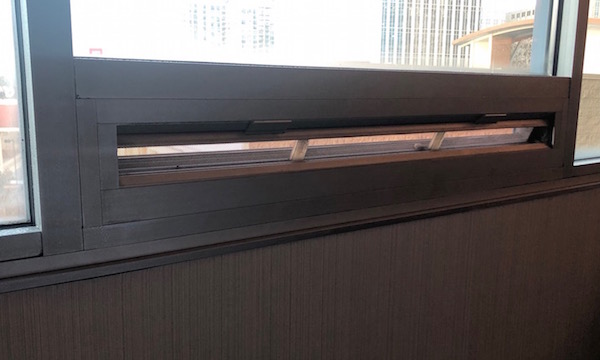 OK, I just made that part up. It's really a pressure relief valve to reduce the high stack effect pressures on the upper floors. No, wait…it's really a place to hang your towels and bath mats outside to dry them out.
Or maybe it was someone's idea of giving guests a somewhat operable window for a bit of ventilation without putting in an actual operable window that someone could jump out of.
Whatever its intended use, this window is a failure. Note the large amount of metal around that little slot in the photo above. Now take a closer look at it in the photo below.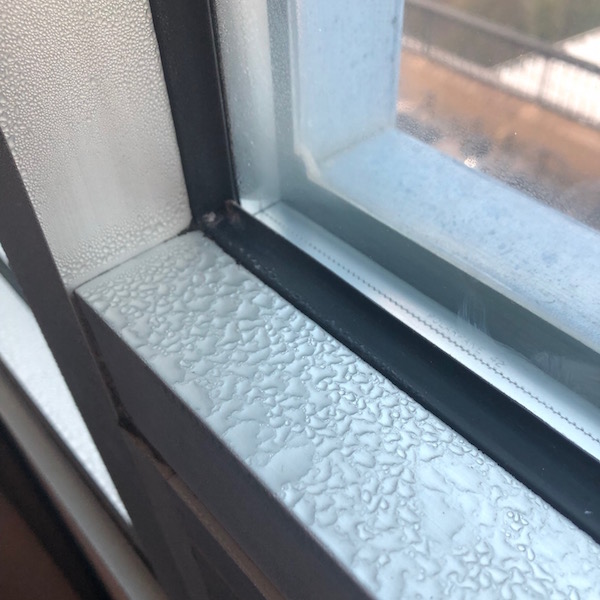 Oops! It's a thermal bridge. Look at all that condensation sitting on top of that slot.
And look at it dripping down the side…and getting soaked up by the drywall, which is causing the vinyl wall covering to peel. And most likely, some nice microbial infestation is infesting that wall.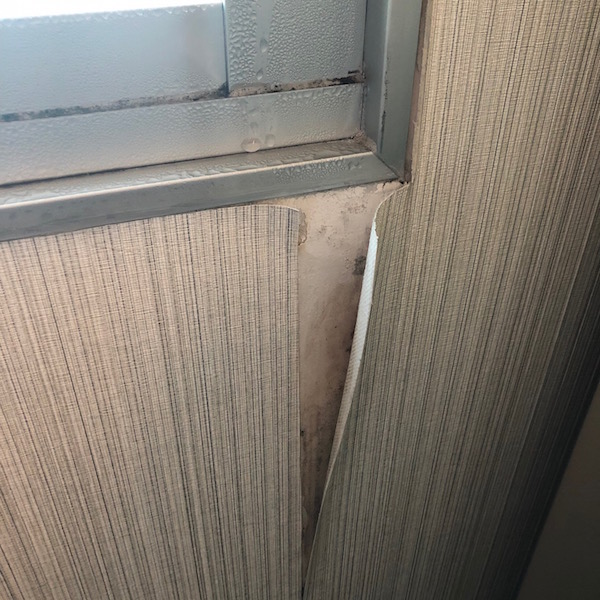 It was cold in Atlanta last week and even though they put in double pane windows, all that metal sucked heat right out of the room, leaving a cold condensing surface to suck water vapor out of the air.
According to my research, this hotel was built in 1988 and renovated in 2010. That window looks more 1988 than 2010, though, so I'm guessing they didn't create the problem with the renovation…nor did they fix it. Clearly the people involved with this don't know the two rules for preventing humidity damage. Or maybe they thought bringing in cold, dry air in winter would solve the problem.
I doubt that's what they were thinking. What do you think?
Related Articles
Adventures in Hotel Bathroom Ventilation
Have You Seen What's in Your Hotel Room Air Conditioner?
A Sword through the Ribs of the Building Envelope
Two Rules for Preventing Humidity Damage
NOTE: Comments are moderated. Your comment will not appear below until approved.