Signs of a Bad Duct Installation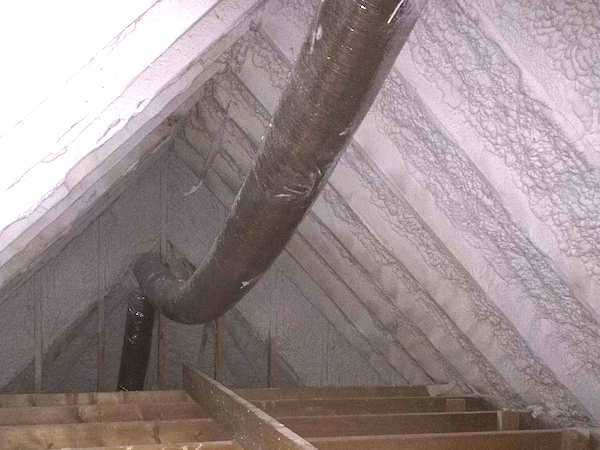 Last month while I was in Austin, homebuilder extraordinaire Matt Risinger gave me a tour of some of his projects. Afterward I wrote about something I saw on his new home construction site that was a sign of a good duct installer. Today I bring you a few photos that are signs of a bad duct installation. A homeowner in Atlanta was getting a home energy upgrade, and one part of it was getting a whole new duct system installed. We got called in afterward and here's what we found.
Did they really do that?
The photo above shows one of the problems. Flex duct needs to have at least one support every four feet. If it sags, as you see here, the friction is higher and the air flow is lower. There's good research on the problems with flex duct not pulled tight. Still, this happens a lot.
Here's problem number 2. Well, actually this is problems 2, 3, and 4. First, what you see here is an uninsulated section of flex duct. This is a supply duct. This time of year, cold air runs inside that duct. Yes, it's in an attic with spray foam insulation on the roofline, but still, you insulate every bit of the supply lines.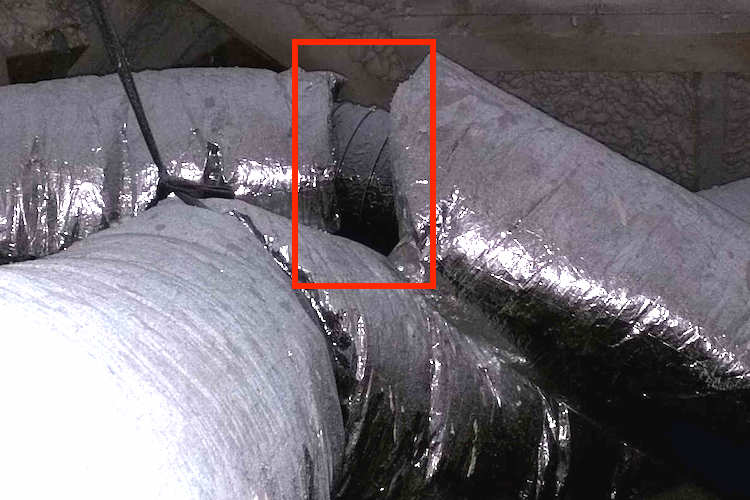 Now, the reason there's a gap in the insulation there is that they connected two pieces of flex duct there. It's a butt joint. And it's a butt joint without a rigid connector. They just shoved one piece of flex inside the other. That's a problem because these things will come apart if they're not mechanically fastened together with a piece of rigid metal.
The third part of this problem is that they didn't even bother to put any tape on the butt joint. Think any of that supply air is leaking out?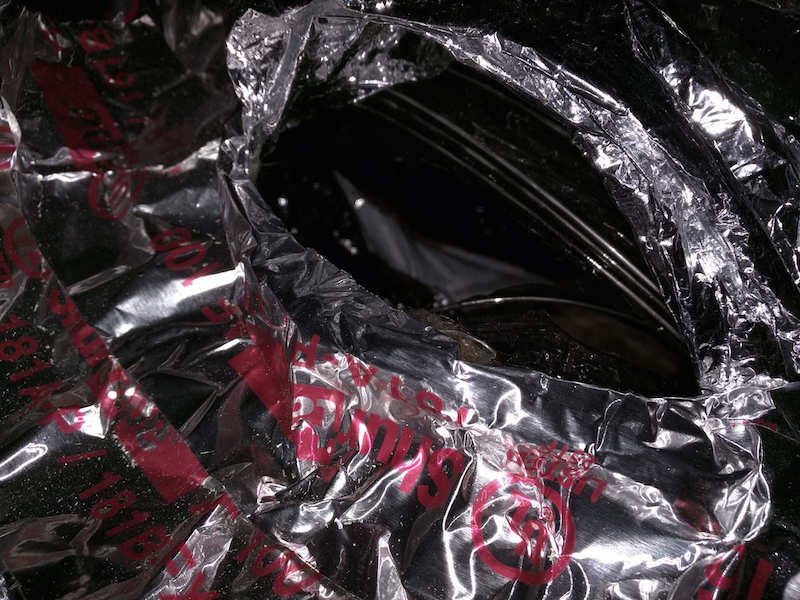 That barely connected butt joint in the supply duct wasn't the only place they did this either. The photo here shows one in a return duct. The tape on the duct liner wasn't sealed. The flex duct liner inside wasn't connected. At least with the other one, they had two inches of overlap. Here, the two liners weren't even touching. So that duct was sucking in attic air and sending it to the house.
The homeowner checked out the new ducts after they were installed. He noticed air leaking out so he called the duct installer back out to seal it up. Somehow they still missed the stuff above. Maybe they don't own duct leakage testing equipment? But they did find at least one place to "seal."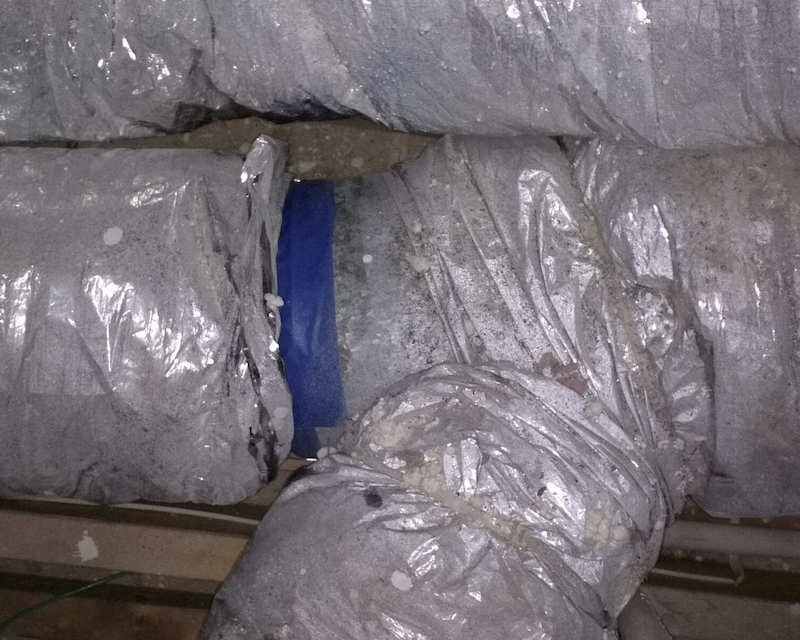 Yes, that really is blue painters' masking tape. Definitely not approved for this use. Definitely guaranteed to fail. That's also bare, uninsulated metal showing to the right of the tape.
How to get it done right
So, as a homeowner, you don't always get what you want. When hiring a company to install a new duct system, however, there are some things you can do to help ensure you get a better than average system. Here are some recommendations:
Try to find the best HVAC company you can. It's not easy. Ask for references. Look at photos of their work. See if they're involved in "home performance" contracting. Ask if they  test their work. You want a company that understands the house-as-a-system concept. None of these things is a guarantee, but they can help you eliminate the worst contractors.
Insist on best practices for duct installation. See my article on how to install flex duct properly. Tell them you'll allow them to use flex duct only for straight runs and it must be pulled tight.
Make sure they test their work. Test for leakage. Test for air flow.
Do a visual inspection yourself. Walk through and look for the problems I showed above. Flex duct should be supported and pulled tight. All supply ducts and fittings should be insulated. Look for all seams and joints to be sealed with an approved sealant, ideally mastic.
Another thing to remember is that ducts are only part of the HVAC system. A new duct system won't do what it's supposed to do if it's not designed for the heating and cooling system it's attached to. They go together. In this home, they got new heating and cooling systems as well as new ducts.
What happened to this homeowner, though, is inexcusable. They were told they should consider getting new ducts and they did, thinking that would solve their problems. Instead, they got new ducts with probably just as many problems as the old ducts had.
If you follow the recommendations above, you stand a much better chance of getting a good duct system installed.
Related Articles
A Sign of a Good Duct Installer
The Science of Sag – Flex Duct and Air Flow
How to Install Flex Duct Properly
NOTE: Comments are moderated. Your comment will not appear below until approved.