Structural Insulated Panels — An Easier Way to Build an Airtight Home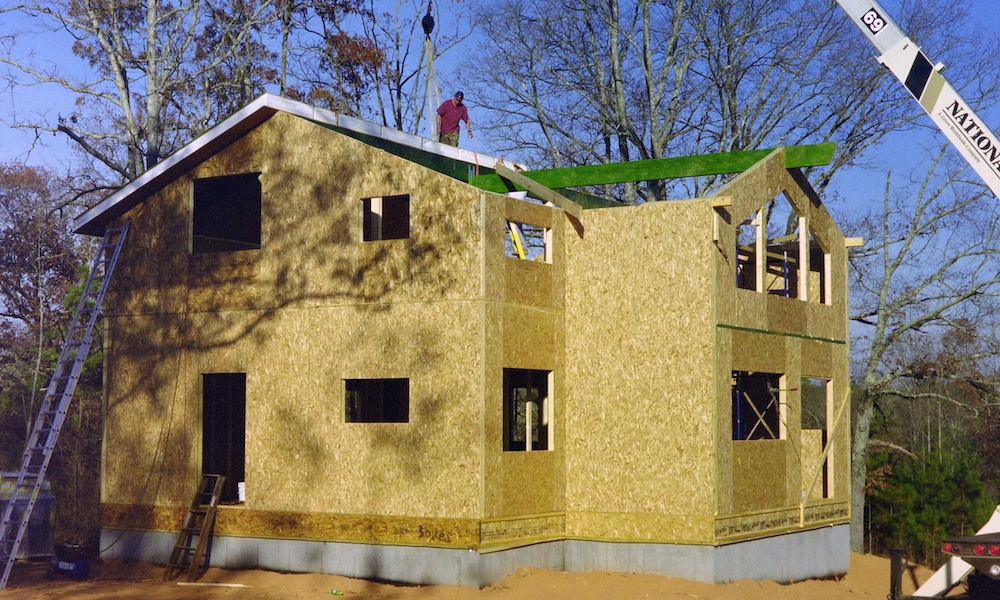 I built a house out of structural insulated panels (SIPs) before I'd ever done—or even watched—a blower door test. It turned out to be pretty dang airtight, too, despite my lack of air sealing experience at the time. If I'd stick-built the same house, I'll bet my air leakage measurement would have been at least twice what I got with SIPs. How airtight was it? Keep reading.
The photo above is what the house looked like when we had all the walls up and half of the roof on top. We got the walls up in about a week. The roof took about three more weeks. I'd never built anything bigger than a bookcase before taking on this project, and I acted as general contractor myself. I also did a lot of the work on the house. (You can read more about getting the house dried in in my article, November Memories.)
I was smart enough to know I needed expert help with the SIP construction, though, so I hired Steve Tyree, who also drew the panel plans for us. He came out for a day and a half to help us get the process right, and he earned every penny of his fee. (I wonder if I'll see him at the SIPA conference, where I'm speaking next week.)
SIP-building is more airtight
The nature of SIPs makes them more conducive to airtight construction. Even someone like me, with no home-building experience at the time, could do it. The 3 factors that make SIP homes tighter are:
Sheathing inside and out
Solid insulation
Air-sealed connections
Of course, none of that guarantees a tight house. You've still got to be smart and pay attention to the details. When I was working at Southface a few years ago, the ENERGY STAR new homes program allowed an exemption from blower door testing to SIP homes. The residential team at Southface, however, decided not to allow it. The reason is that, although SIP homes have the potential to be more airtight, it's always possible miss critical air-sealing details and still have a leaky house.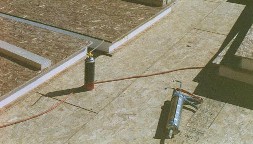 In our case, the above-grade walls and the roof were made of SIPs. The basement was poured concrete. The above-grade walls and roof were airtight, and most of our air leakage came from the band joist for the floor system that sat on top of the foundation walls. If I were building that house again, I'm sure I could cut the air leakage in half just by doing a better job with the band joist. If I'd used spray foam insulation on the band joist, that would have done the trick.
Still, the house was airtight. Not Passivhaus tight, but four times better than the Georgia energy code requires. Our air leakage was:
Passive House requires 0.6 ACH50. The current Georgia energy code requires 7 ACH50. The 2012 IECC, which only a couple of states have adopted so far, would require 3 ACH50 in our climate zone (3).
My next house?
I live in an old, low-performance condo now that's not exactly what you might imagine someone who talks about building science all the time would live in. But when you get divorced and move out of the high performance home, your ex-wife sells at the worst possible time (2010), and then you start a business during a recession, it can take a while to recover financially. That's starting to happen, so I'm dreaming about the next high performance home I'm going to build, this time without the mistakes I made the first time.
Since I built the first one, I've often thought that I would do it with SIPs again. That's still possible, but after my trip with Martin Holladay to Serenbe earlier this month, I'd like to look further into using autoclaved aerated concrete (AAC). I'll have to look at how the costs compare and the relative greenness of the materials, but that's how I'm leaning now. If I do go with AAC, I might also use rigid mineral wool insulation on the outside to increase the R-value and eliminate any thermal bridging.
It's still very early in the process, though. Once we get a lot and start working on house plans, I'll dive into the details and let you know. Let's hope I don't run into any of the difficulties with permitting that have stymied Carl Seville, a.k.a., the Green Curmudgeon.
Allison A. Bailes III, PhD is a speaker, writer, building science consultant, and the founder of Energy Vanguard in Decatur, Georgia. He has a doctorate in physics and is the author of a popular book on building science.  He also writes the Energy Vanguard Blog. You can follow him on Twitter at @EnergyVanguard.
Related Articles
The 3 Rules of Air Leakage (Plus a Bonus!)
November Memories – Building a House with Structural Insulated Panels