The Combustion Safety Wake-Up Call for an HVAC Guy
[Guest post by David Richardson]
[Guest post by David Richardson]
There are certain events that you can mark as life changing. For me, one such event would be the three day training class that I took back in May of 2001. It's often said when you're ready for a certain truth to present itself to you, the time will happen when it's right, and this was the right time for me to learn about combustion safety.
For years I had noticed contradictions in many HVAC code references and installation practices that simply didn't add up. Unfortunately, I didn't have the knowledge or the background to make sense of these concerns. When I asked others whom I considered more knowledgeable on these topics, I was told that that's the way it's always been done or that's the way code says it has to be done.
This just didn't seem like a very good reason to me. When we responded to a carbon monoxide (CO) alarm, we went straight to tearing the furnace apart and searching for cracks in heat exchangers. You see, most HVAC guys are taught that CO comes directly from cracks in heat exchangers so checking the heat exchangers was our Pavlovian response whenever CO was mentioned.
Many times the heat exchangers were just fine, and there was no CO in the building. "Must be the batteries in the CO alarm again," was my response to the homeowner, feeling unjustifiably confident that I had solved their problem.
For years, I had read the work of Jim Davis, the father of modern day CO testing, but I could never grasp the complete concepts.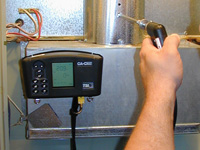 A lot of what Jim talked about directly addressed the contradictions I found, but I just couldn't wrap my mind around it.
Then I had the opportunity to attend a three day class put on by the National Comfort Institute (NCI) on CO/Combustion testing, and I was going to hear all I needed to know directly from Jim himself, as he was teaching the class. Those things that had been so confusing to me were about to be cleared up for good.
What I didn't know was that my world was about to be turned upside down. For close to a week after the class, I couldn't sleep. I kept thinking about all the situations that I had walked past that had the potential of being unsafe. All those CO alarms going off could have been a problem much more serious than bad batteries…and I didn't have a clue on how to test.
I couldn't believe that things were nearly as bad as Jim had said they were. That I would uncover those same problems once I started to test for CO seemed unlikely, yet I had to find out. I went out and purchased a combustion analyzer and draft gauge and started to test using NCI procedures. I didn't have a lot of confidence in my skills at this point but was determined to find out what was really going on with CO.
My findings were pretty disturbing. The real world was not only as bad as Jim had said – it was worse, a lot worse.
Not long afterwards, I began to spread the word in the HVAC industry about what was going on with CO and how we needed to make combustion safety testing a regular part of our protocol. When NCI learned of my efforts, Jim Davis himself asked me if I would be willing to teach the NCI material to an industry that desperately needs to understand this issue. Without hesitation, I agreed and began immediately to teach my HVAC cohorts how to properly test for CO.
I knew I was doing the right thing when I started to get calls from my students telling me that what I had taught them helped them to save someone's life. It's a great feeling to be told something like that, and it brings a kind of inner satisfaction that I just can't explain. Those who consistently test for CO get the same calls from their customers, who are extremely thankful that a professional trained in combustion safety may have saved their lives.
If you're a homeowner with combustion appliances in your home, have you had them tested?
If you're a professional in this field, how often are you testing your clients' homes for CO?

David Richardson is an HVAC contractor in the Lexington, Kentucky area, as well as an NCI instructor and certified home energy rater. He'll be teaching a special edition of NCI's HVAC Air Diagnostics & Balancing Training in November.
Photos from NCI