Total Energy Use Down in US, Wind & Solar Up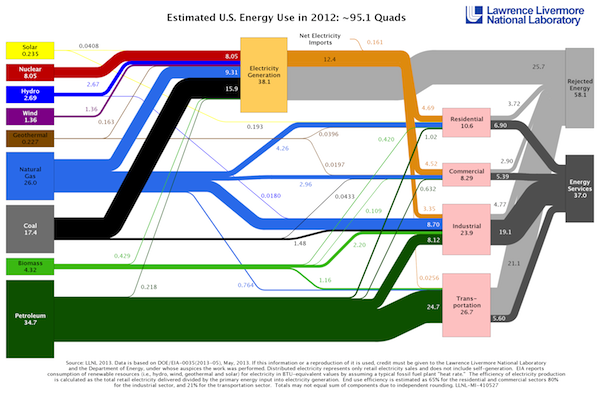 I love those Sankey diagrams showing the energy flows in the US. You can find two versions of them put out by different parts of the federal government. The US Energy Information Administration (US EIA) puts out one type, but it's not quite as informative as the one that Lawrence Livermore National Laboratory (LLNL) produces. The latest LLNL diagram came out this summer and shows how we used energy in 2012, as you can see below. (To see a larger version along with the 2008-2011 charts, just click the image. It will open in a new tab/window.)
I love those Sankey diagrams showing the energy flows in the US. You can find two versions of them put out by different parts of the federal government. The US Energy Information Administration (US EIA) puts out one type, but it's not quite as informative as the one that Lawrence Livermore National Laboratory (LLNL) produces. The latest LLNL diagram came out this summer and shows how we used energy in 2012, as you can see below. (To see a larger version along with the 2008-2011 charts, just click the image. It will open in a new tab/window.)
Here are some of the highlights:
Our primary energy consumption dropped 2.2 quadrillion BTUs (quads) , or 2.3%, from 2011 to 2012. This is down from the peak of 101.5 quads that we reached in 2007. (See graph below from the EIA 2012 Annual Energy Outlook.)
Residential energy consumption dropped from 11.4 to 10.6 quads.
Wind and solar are both up, though both are still a small part of our total energy production. Wind now makes up 1.4% and solar 0.25%.
Nuclear energy is down from 8.26 to 8.05 quads from 2011 to 2012 because four plants have shut down.
Petroleum is down about 2%.
Coal is down a whopping 12% in just one year.
Natural gas is up 4.4%.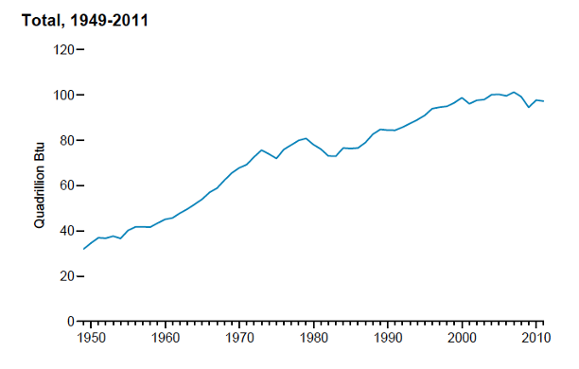 Residential site vs. source energy
Another really interesting bit of information you can get from the chart—which the EIA charts don't give you—is the breakdown of electricity consumption by site energy and source energy. If you're up for it, let's do a little bit of math to see how it works out:
Residential electricity consumption – site: 4.69 quads
Residential electricity consumption – site: 4.63 quads (adjusted to exclude amount from imported electricity)
The total amount of energy that went into generating electricity in the US was 38.1 quads. That's our total source energy for electricity. The amount of that distributed to the three end uses (residential, commercial, and industrial) was 12.4 quads. Residential makes up 37.3% of that (4.63 ÷ 12.4).
Those 12.4 quads distributed, however, came from 38.1 quads of source energy. Using the percentage we just calculated, we can find the amount of residetial source energy consumption by multiplying the residential fraction (0.373) by the total amount of energy used to generate electricity (38.1 quads).
Residential electricity consumption – source: 14.2 quads
There it is. It takes a little more than 3 units of source energy for each unit of site energy that we use in our homes. That's the origin of the multiplier effect I wrote about a while back, which means that for every 1 kilowatt-hour of electricity you save at home, you save 3 kilowatt-hours of energy that went into the generating plant. (Of course, that same ratio applies to site vs. source energy used in the commercial and industrial sectors.)
Note that the ratio of source to site energy I calculated here is applies to our total electricity generation in the US. It includes all of the fuels shown above leading into the electricity generation box in the diagram. Your ratio is probably different because it will depend on the actual mix of fuels used in your area. David Butler posted a link in the comments below that shows source energy factors by region and fuel type (pdf).
And there's so much more information in these diagrams. A person could get endless hours of pleasure by studying these data! It's probably wise to do so in small blocks of time, though, so as not to overstimulate yourself.
And a sad note…
The US EIA has been publishing the Annual Energy Review for quite a while. It's a great look at how we use energy. Unfortunately, they announced earlier this year that because of budget cuts, they're suspending its publication for 2013. This applies to the Energy Perspectives publication as well. See their April 2013 press release for more information.
Related Articles
The Electricity Multiplier Effect for Home Energy Efficiency
US Energy Flows — Inputs and Outputs 1995 to 2010 (about the US EIA diagrams)