When Is a High-Efficiency Furnace Not?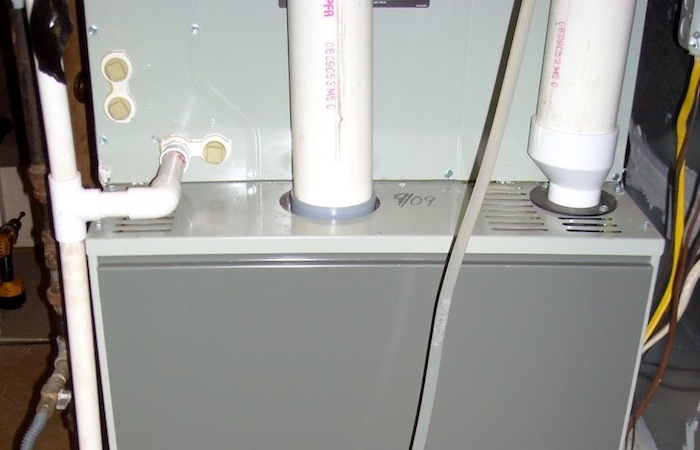 You can tell how energy efficient a furnace is by its official efficiency rating, the Annual Fuel Utilization Efficiency (AFUE). It's a measure of how much of the heat originally in the fuel that's being burned is available for delivery to the home. The more heat that gets lost up the flue or through the cabinet, the lower the AFUE. But that rating doesn't capture all the ways a furnace can lose efficiency. Some, like how well the heat gets delivered to the house, aren't related to the furnace itself. But there's one big one that is related to the furnace.
Unlike air conditioners and heat pumps, furnaces use two sources of energy. The fuel that it burns is the obvious one. (It's usually natural gas or propane.) The other is the electricity that runs the blower. And that's the key to finding a high efficiency furnace that truly operates at high efficiency.
A peek at manufacturer's specs
I was working on a mechanical design for one of our clients recently and was going through the equipment selection process. The software we use (RightSuite Universal) has a lot of equipment data built in, so I can just find a manufacturer, set the limits for sizing and efficiency, and look at the options.
Once I get my list of options reduced to a reasonable number, I can choose a model that meets my requirements. But I have to go in and make sure to look at the blower power rating for each one or I could end up saddling the client with a furnace that looks like it should be efficient but isn't really.
I took a look at the RightSuite listed blower power ratings for five different manufacturers. The furnace capacities were all in the range of 40-44 thousand BTU per hour (kBTU/hr) with AFUE ratings of 94.1 to 96.5. The table below shows what I found for how much electric power they would use. I looked at several models for each manufacturer and am showing here the lowest and highest power rating for each one.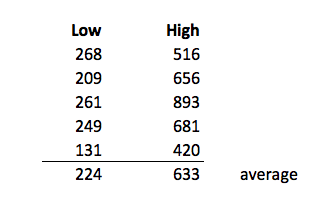 That's quite a difference. The average high blower power (633 W) is nearly three times the average low blower power (224 W). And the worst one in there (893 W) is another 41% higher than the average high.
The effect of an energy hog blower
What this means is that when you choose a furnace, the effect on the heating bill hits two ways. A higher AFUE means you pay a lower gas bill. It does not mean, however, that your overall energy bills are lower. If you live somewhere with a mild climate, it may not affect you very much. The more that blower runs, though, the higher the electricity bill will be.
Also, remember, when you pair a furnace with an air conditioner or a heat pump, that same blower is used for heating and cooling. So if the furnace blower is an energy hog, the homeowner will pay for it year-round.
Let's look at some numbers. To figure out how the blower's power use affects your electricity bills, we need to know how many hours it's going to run. If you look online for annual runtime, you'll see some numbers that are too high. One I found was as high as 3,600 hours per year, implying that the system runs an average of 10 hours per day, 365 days per year. If that's really the case, I've been wasting my time talking about oversized air conditioning systems.
So I checked with someone who knows and found out that the national average is probably around 1,500 hours per year. In hot climates, where the air conditioner runs a lot, it's more like 2,000 hours per year. But those numbers include a lot of oversized systems that short-cycle. Right-sized systems run more.  Since we design systems that aren't nearly as oversized as the typical ones, I'll use 2,000 hours in my calculations.
The most efficient blower in the table above burns 131 W. Multiply that by 2,000 hours, convert from W to kW (divide by 1,000), and we find that this blower uses 262 kWh per year. The worst blower burns 893 W, so its annual consumption is 1,786 kWh. Wow! That's almost six times more electricity use.
Of course, the other big factor that affects the electricity cost is the rate you pay, so I calculated the annual cost for these two blowers for three rates, $0.08, $0.12, and $0.16 per kilowatt-hour (kWh).

As you can see in the table above, the difference between low-power blower and a high-power blower can be significant. If the furnace lasts 15 years, it can cost $2,000 to $3,000 extra if you make the wrong choice.
Bottom line: Check your specs!
What I've presented here is a simplified analysis. To get to the actual effect of the blower on your energy bills, we'd need to know about the ducts. A well designed and installed duct system won't resist the air flow as much as a typical duct system, and that affects the blower. Another real-world factor is that actual performance usually differs from manufacturer's specifications. When you can get actual data, you can make an even better decision.
Still, using the manufacturer's specs is a good first step. Not all high-efficiency furnaces are created equal, and when looking for a furnace you should be aware that the AFUE is only one part of the efficiency. Be sure to look at the blower power, too, because that can have a huge effect on your energy costs. And if your utility is selling you dirty electricity, you pollute more as well.
Related Articles
Does a Gas Furnace Dry Out the Air in Your Home?
How NOT to Retrofit a Furnace in a Spray Foam Insulated Attic
How Can Replacing a Furnace Make You Less Comfortable?
NOTE: Comments are moderated. Your comment will not appear below until approved.