10 Consequences of Keeping Your Home Really Cold in Summer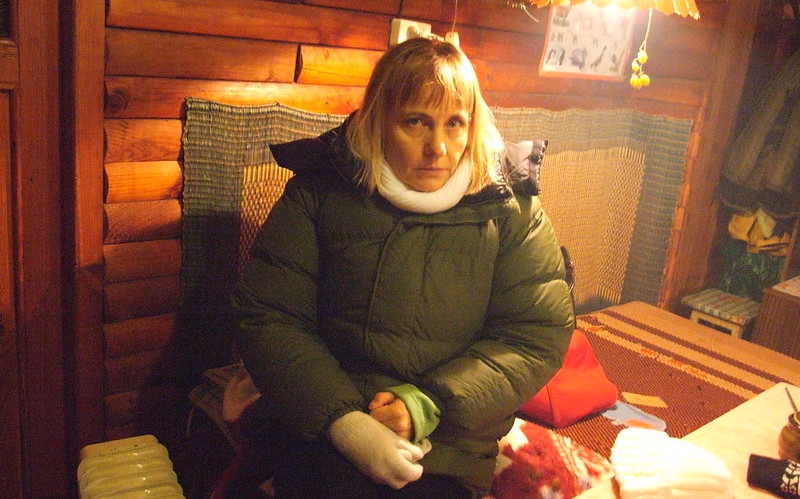 I briefly worked at a dry cleaning shop in St. Louis a long time ago.  It was December, and we had a bout of super cold weather one week.  The temperature dropped to 0° F at night and got up only into the teens during the day.  I worked inside where the temperature was always nice and warm, but the delivery guy had to go out in the cold every day.  Before the cold front came through, the daytime temperature was in the 30s and 40s Fahrenheit, I think, and he'd go out with no jacket, just a short sleeve T-shirt, pants, and shoes.  When the daytime temperatures dropped to the teens, he put on a light jacket over his T-shirt.
Everyone has a different sense of temperature.  My coworker was a large guy whose job, aside from driving, kept him moving.  He needed a lot of cooling.  I, on the other hand, had trouble keeping warm with my 6'2″ 160 pound body.  In my mind, I could grasp the concept of him not being cold, but my body shivered to see him outside on those cold days.  I imagine he was a person who, in summer, would turn the air conditioner thermostat way down.
And that's our topic for today.  Apparently, some people like to have their air conditioners set to keep the house really cold.  Like 68° F cold.  I'm not here to judge your thermal preferences.  Everyone's internal furnace runs at their own internal setpoint.  But if you set the AC thermostat really low like that, there may be consequences.  Here are the main potential problems you should be aware of next time you head for the thermostat.
1. Growing mold
As I've written here many times, the key to preventing "accidental dehumidification" is to keep humidity low or surfaces warm.  The colder you keep the indoor air in your home, the colder the walls, ceilings, floors, and windows will be.  When water vapor from the air gets into the porous materials in those building assemblies, you have an ideal place to grow mold.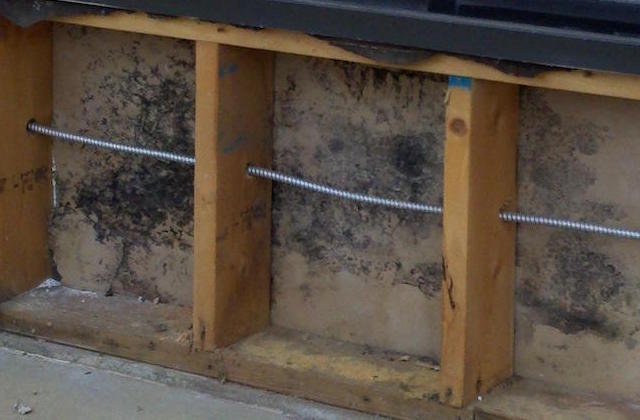 Some of that mold may be visible inside your house, but you may well end up with an invisible mold problem that still affects your indoor air quality.  The photo above shows mold growing on the back side of the drywall on an exterior wall.  This can happen even if the humidity in the house is low because humid outdoor air can leak into the wall cavities if they're not sealed tightly.
2. Rotting your house
Curt Kinder, an HVAC contractor in Jacksonville, Florida and a longtime commenter here in the Energy Vanguard Blog, talks about houses he's seen "totaled" by the thermostat set too low.  That moisture from outdoors leaking into the walls, floors, and ceilings can rot the wood in addition to growing mold.
3. Condensation on your air conditioner vents
Keeping the house colder means the metal AC vents will be colder.  Even with less humidity in the house, those surfaces may be below the dew point.  See my article from a couple months ago, Why Do Air Conditioning Vents Sweat?
4. Condensation on your ducts
With the air conditioner running longer, the ducts will get colder, too.  If they're in an attic, crawl space, or basement with high dew point air, they're likely to be dripping.  If the attic ducts are buried in insulation, they're even more likely to have condensation, which then can drip down onto the ceiling and create ugly water spots…and possibly grow mold.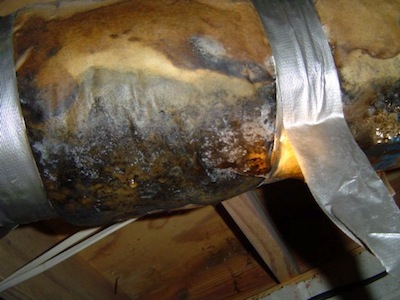 If your ducts have paper-faced insulation on them, as shown above, that condensation also can grow mold.
5. More duct leakage and infiltration
The more your air conditioner runs, the more it leaks.  If you have a well-sealed duct system, this isn't that big a deal.  If your ducts are leaky, they'll be leaking for a longer amount of time each day to keep your house cold.  If you have unbalanced duct leakage, you also get more infiltration, so it hurts you twice in that case.
6. Larger air conditioning capacity needed
In our HVAC design work, we typically use the indoor design conditions recommended by the Air Conditioning Contractors of America (ACCA):  75° F and 50% relative humidity.  There's usually a little cushion in the capacity we specify but probably not enough to get your house down to 68° F when the outdoors is at your local design temperature.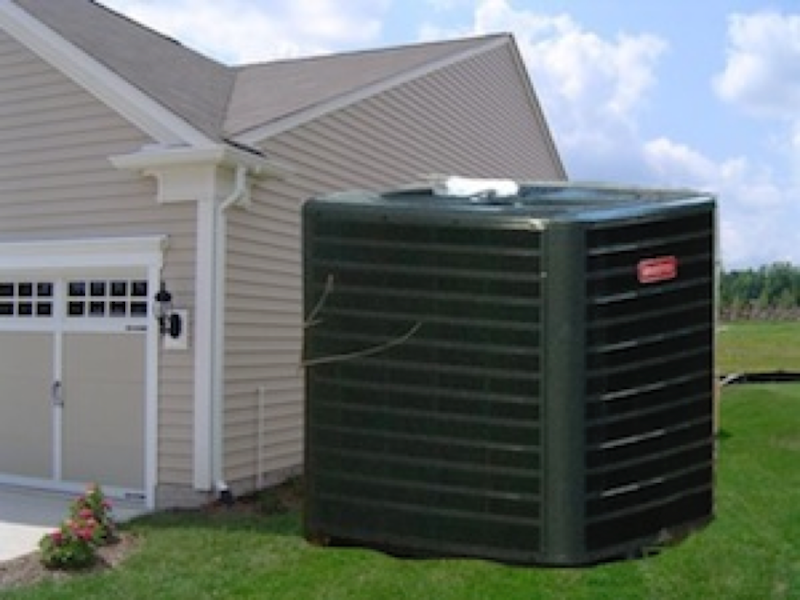 7. Reduced energy efficiency
With colder air in the house, the air conditioner gets colder air coming into the system for further cooling.  That means there's less heat for the air conditioner to remove from the return air, resulting in an evaporator coil that gets colder.  John Proctor showed that colder evaporator coils lead to lower efficiency.  (He was discussing one of the flaws with zoning bypass ducts, but the same principle applies no matter what makes the coil colder.)
8. Increased energy use
This isn't the same is number 7.  Even if somehow the AC was magically able to run at the same efficiency when keeping the house colder, it still uses more energy because it runs more.
9. More frequent filter changes
First, the good news:  If you have good filtration set up with your air conditioner, you'll have cleaner air because the air will be cycling through the system more often.  The bad news, though, is that you'll have to change the filters more frequently.  And if you don't, your air flow will drop, possibly freezing up your coil or damaging the compressor.
10. More energy use in your heat pump water heater
OK, maybe you don't have a heat pump water heater (yet), but I got one last September and I love it.  It's in my basement, and I've been watching the energy use change with basement temperature.  I've got a full article on this coming soon, but here's a sneak peek at this year's energy use for my Rheem Performance Platinum.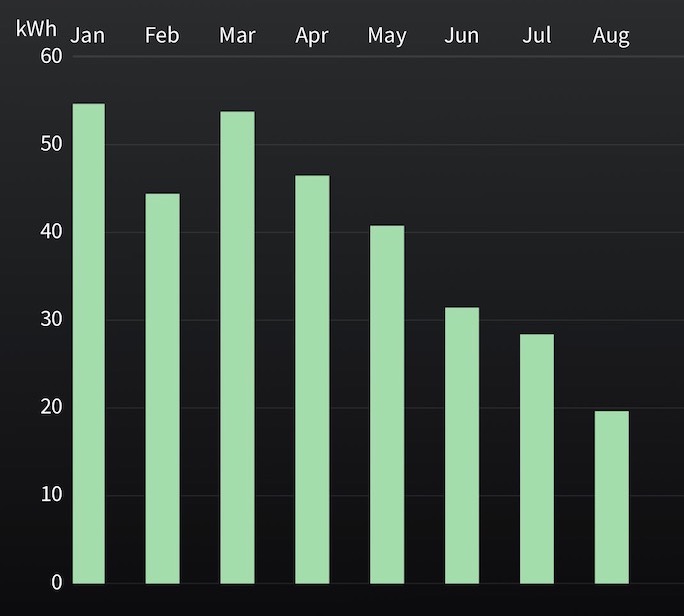 That decline in monthly electricity consumption is due solely to higher temperature in the basement.  I haven't measured the hot water we've used, but if anything, that's gone up because I've been working from home since 13 March.  We average less than 1 kilowatt-hour (kWh) per day in the summer and close to 2 kWh per day in the winter.
Advice for those who like it cold
If you're one of those people who has to have it cold, you should be aware of the potential problems I've listed above.  Still want that thermostat at 68° F?  Pay attention to the indoor and outdoor dew points, especially in comparison to the temperature you're keeping your house at.  If you keep the house at 68° F and the outdoor dew point gets up into the 70s Fahrenheit every day, you may have started a biology experiment inside your walls.  A moisture meter* can tell you if your walls are too wet.  To avoid a wet, rotting house, you need a really good air barrier on the outside of your walls to keep that humid air out.  Also, check your supply vents and ducts for condensation.  Of course, dropping the indoor air temperature with air conditioning isn't the only way to keep cool.  Combining AC with air movement from fans might be enough to get your house out of the danger zone.
When I moved to St. Louis for grad school at Washington University in the summer of 1983, I would have loved to have any air conditioning at all.  Instead, I moved into an old apartment near the Loop and had to keep cool with only a fan during a hot summer when the temperature hit 103° F.  But I sure was happy when I discovered the milkshakes at Ted Drewes!
Allison Bailes of Atlanta, Georgia, is a speaker, writer, building science consultant, and founder of Energy Vanguard. He is also the author of the Energy Vanguard Blog.  You can follow him on Twitter at @EnergyVanguard.
Related Articles
Accidental Dehumidification – A Preventable Mess
Make Dew Point Your Friend for Humidity
Buried Ducts Risk Condensation in Humid Climates
* This is a TruTech Tools affiliate link. You pay the same price you would pay normally, but Energy Vanguard makes a small commission if you buy after using the link.
Photo of woman freezing by Jerzy Kociatkiewicz from flickr.com, used under a Creative Commons license.
NOTE: Comments are moderated. Your comment will not appear below until approved.