4 Smart Building Science Learning Opportunities for You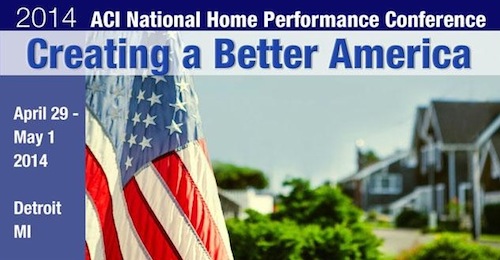 If you work in the fields of home building, home improvement, or HVAC and want to do the best work you can, you know that you've got to keep learning. Not only is there a tremendous amount to know, but things are always changing. Here are four great opportunities for you to continue your building science education.
This is one of the premier events for people who work to make existing homes more comfortable, healthful, durable, and energy efficient. It's got a storied history and is the biggest conference in our field. It's also got one of the best trade shows.
Why you should go
Great sessions, like The Great Residential Ventilation Debate – A panel discussion with Dr. Joseph Lstiburek, Paul Francisco, Dr. Iain Walker, Rick Karg, Michael Lubliner, and Don Stevens, moderated by Duncan Prahl and yours truly.
Lots of continuing education units (CEUs) for your certifications: ASHI, InterNACHI, BPI, and NARI.
Some of the best networking anywhere
A chance to talk with the rock stars in the industry: Joe Lstiburek, Courtney Moriarta, Michael Blasnik, Linda Wigington, John Proctor, and more!
Get the discounts!
The Early Bird discount is $100 and ends on Monday, 31 March. Don't miss it!
If you're a member of Efficiency First, you can get another $100 discount. If you're not a member, join.
Details
29 April – 1 May
Detroit, MI
Early Bird discount deadline: Monday, 31 March

The presentation I've given the most recently is this one. Now you've got a chance to catch the one-hour webinar version of it for free. If you get confused about control layers and the differences between air barriers and vapor barriers and want to know what housewrap does and other materials that handle those duties, this webinar is for you.
Date: Thursday, 3 April 2014
Time: 1:00-2:00 pm EDT
Cost: Free

We want airtight homes. Airtight homes need mechanical ventilation. The topic of ventilation can be very confusing. Balanced, exhaust-only, or supply ventilation? ERV or HRV? What rate? Which controls? In this free webinar, I'll lay out the fundamental issues and provide guidance on how to do it right.
Date: Thursday, 17 April 2014
Time: 1:00-2:00 pm EDT
Cost: Free

We haven't had an open enrollment HERS rater class since May 2013. This may well be the only one we offer this year. If you've been holding off on taking the class, now's your chance. I suggest you jump on it quickly because it's limited to 12 students.
Why you should sign up
More opportunities for energy code compliance are arising all the time, and certified HERS raters qualify to do it.
We have what is probably the only class taught by someone with a physics PhD and has lots of experience in education.
You'll leave the class with your training certificate in hand if you meet all the requirements. No waiting for weeks or months!
Details
28-30 May and 2-6 June 2014
$2025 if you register by 28 April
$2175 if you register after 28 April
Taught in Atlanta, GA
Option for doing first 3 days online
Yes, the price is higher now. Sorry about that, but RESNET is starting to require that we include combustion safety testing, and there are two more exams that go along with that. Register a month early, though, and you'll save $150.

NOTE: Comments are moderated. Your comment will not appear below until approved.