An Unexpected Benefit of Encapsulating a Crawl Space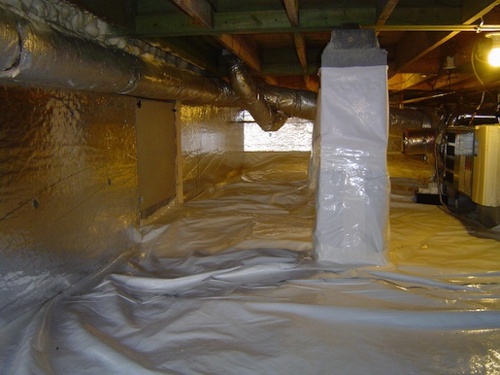 My friend Perry had lived in a nearly hundred year old house for six or seven years when we encapsulated his crawl space in 2005. It was a typical old country house. Originally built on piers, someone had filled in the gaps and turned the foundation into an enclosed, vented crawl space. There was no insulation in the floor over the crawl space. The floor itself was old pine planks nailed right to the floor joists, with no subflooring.
As you might expect, air moved easily between the house and the crawl space. In fact, when we were working on encapsulating the crawl space, I remember being in his kitchen sometimes and seeing the lights we had left on down below shining up through the gaps in the flooring.
And that's not all that came through the floor. Occasionally cave crickets, like the ones in the photo below, would show up in his bathroom. If light and crickets could come through the floor, other stuff could, too.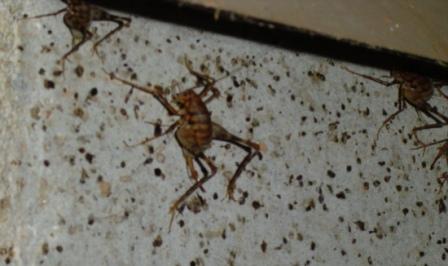 I was a home performance contractor back then and had started encapsulating crawl spaces. We'd put a heavy duty plastic liner on ground, up the walls, and around the piers. We sealed up the vents in the foundation walls. We air-sealed the band joist. I loved the transformation that happened whenever I did one.
After we finished getting Perry's crawl space all closed up, he started noticing that his house smelled better. But he also got an unexpected benefit. He told me one day that he stopped sneezing every morning. It had been part of his daily life so long he didn't notice it anymore, but he used to wake up each day and go through a little sneezing fit.
Then the crawl space air got better. And Perry's morning sneezing went away.
Related Articles
Solving a Crawl Space Water Mystery
What Is the Best Way to Deal with Crawl Space Air?
Beautiful Duct System in a Beautiful Crawl Space! Was I Dreaming?
NOTE: Comments are moderated. Your comment will not appear below until approved.