Is This the Worst Duct Retrofit Ever?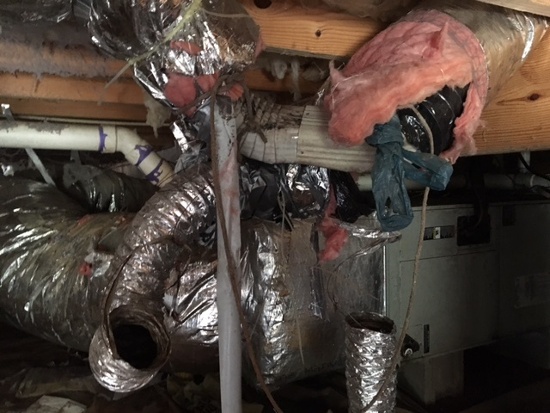 When Stephen Morrison of MoreSun Custom Woodworking sent me the photo above, my reaction was, Wow! Just wow! This duct retrofit is absolutely stunning. It's an elegant display of creativity not hindered by knowledge. Can you see what they've done?
Ignore the broken duct hanging down lower in the photo. That's just the dryer vent that's fallen apart. The creative part is the duct that's part of the heating and air conditioning system.
At some point the duct at the top of the photo came apart — or more likely, was torn apart. Someone noticed the problem and applied the tremendous capacity of the human brain to find a solution. They needed to bridge the gap with some kind of tube and fortunately, there was some right there at the house: a bit of downspout with an elbow from the gutter system.
Perhaps it was just lying around the yard. Perhaps they scavenged it from a part of the home that didn't get rained on. Perhaps the owner was a gutter installer. It doesn't really matter.
After finding a suitable material to move the air from one open duct end to the other, they stuck it in there and had to make sure it stayed. They used duct tape, of course. But that wasn't quite enough, so they tied some rope around it.
And then the coup-de-grace: They tied a plastic grocery bag around the right side in an attempt to hold it together.
Wow! Just wow!
Related Articles
What's That Ice Chest Doing in This Attic Duct System?
Little Shop of Duct Design Horrors
Release the Kraken! — The Ductopus Is Bad for Air Conditioning
Photo by Stephen Morrison of MoreSun Custom Woodworking, used with permission.
NOTE: Comments are moderated. Your comment will not appear below until approved.