Historic Preservation and Deep Energy Retrofits — Natural Enemies?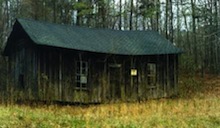 In one corner, we have a core of people who have dedicated themselves to preserving old buildings. In the other corner is a group that strives to save energy by making buildings more efficient. These two groups often charge out of their respective corners, not realizing at first that they were even in a boxing match, and snap to attention when a fist goes whizzing past their ear.
OK, maybe it's not that dramatic, but historic preservationists and the advocates of deep-energy retrofits often hold different views on the best way to treat old buildings. Two of my best social media friends last week had a little chat on Twitter about this issue, and it has since moved to the blogosphere. (See the end of this article for links to the various parties and other resources.)
I think it started when Peter Troast (@EnergyCircle) tweeted about the benefits of a deep-energy retrofit (DER), and John Poole (@BirminghamPoint) responded. Peter is the champion of a DER of a historic building in Freeport, Maine. John, from Connecticut, loves—and lives in—historic homes.
Is it just deep energy retrofits?
First, let me say that the debate between the two sides isn't limited to the extreme cases of deep-energy retrofits. As John puts it, historic preservationists "are obsessed with preserving as much of the original architecture and material of an historic structure as possible." That means that any change to a building gets scrutinized, whether it's part of a DER, a more modest energy improvement job, or even a small remodeling job.
But the reason we're having this discussion about DERs is, as John wrote, "The term 'Deep Energy Retrofit' freaks historic preservation people out." Why? Because most involve pulling the exterior cladding off of the house and adding exterior insulation. To do that, you have to mess with the windows and doors. Also, the house protrudes out from the foundation afterward, and it's fair to say that these things change "the original architecture."
What is a deep energy retrofit?
I'm not sure of the origin of this term, but it seems to mean different things to different people. My take on this is that to qualify as deep, the energy retrofit had to reduce energy use in the house by 70% or more. You've definitely got to do more than just replacing the windows, which, as everyone knows, can cut your bills in half. (Just kidding! It's a rare case where that would work.)
Two of the main advocates of the DER are Building Science Corporation, which has been involved in a number of them, and Linda Wigington, who started the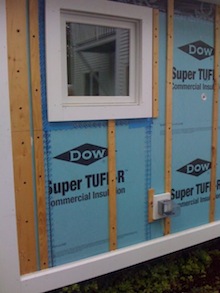 Thousand Home Challenge. On the latter site, you'll find case studies of some of the projects that have gone through deep energy retrofits and how they did it.
The former is Joe Lstiburek's company, of course, and one of his most recent projects was redoing a deep-energy retrofit of the barn at his house, which had originally retrofitted 16 years earlier. He's written about the project and the lessons they learned in deconstructing the original work, and I got to see the re-retrofit last summer. The photo at right shows the exterior insulation with furring strips.
We're working on a deep-energy retrofit right now, too. Chris Laumer-Giddens, our architect and HVAC designer, has completed the HVAC design with mini-split heat pumps for a historic home in Cranston, Rhode Island. We'll post more about that project as it progresses.
A few questions
As you might expect, I'm more inclined to be in the deep-energy retrofit camp, but I have questions for both groups:
Is every old house really worth calling historic? It seems a bit of a stretch to me to slap the historic label on a suburban ranch house built in 1960, yet in some places, that can happen.
Are deep energy retrofits really worth the cost? Martin Holladay wrote an article recently called The High Cost of Deep-Energy Retrofits, and the numbers aren't appealing.
Can preservationists be a bit more consistent? I taught a class in Savannah a few years ago, and one of the students was a historic preservationist. He described some of the restrictions they put on old buildings there, some of which seemed arbitrary, especially since the single step of allowing air conditioning in a hot, humid climate can be quite destructive.
Is it better to let an old building decay completely or modify the orginal architecture and material? Many old houses don't get much love, so why not let someone who has the resources come in and save them, even if it does change the historical authenticity.
Is every old house worth saving? I think not. The popular saying that 'the greenest house is the one that's already built' isn't always true.
This isn't a black-and-white issue. Both sides can learn from each other, but with the Long Emergency upon us, will historic preservation itself become a thing of the past?
Other resources in the Historic Preservation vs. Deep-Energy Retrofit Debate
The Mallett Deep-Energy Retrofit. An old building in Freeport, Maine undergoing a DER, spearheaded by Peter Troast of Energy Circle.
Deep Energy Retrofits and Historic Preservation: The Beginning of a New Dialogue, by John Poole
Deep Energy Retrofits – The Conversation, by Sean Lintow
Deep Energy Retrofits – A Twitter Conversation, by John Nicholas