How's the New Home Electrification Movement Going?
On the new home electrification front, the Home Innovation Research Labs released some interesting data this month.  You may have noticed that going all-electric with buildings and transportation has become a thing in the past few years.  Climate change is happening, and fossil gas (a.k.a., natural gas) isn't seen as the clean transition fuel it was once thought to be.  Plus, electricity keeps getting cleaner every year as the mix of fuels generating it includes more solar and wind.
So, how's the fuel switch from gas to electricity going among new homes being built?  The aforementioned report includes two graphs that tell the tale.  The first one, shown below, is for new single-family detached homes.  It shows the percentage of those homes that get outfitted with gas appliances for cooking, space heating, and water heating.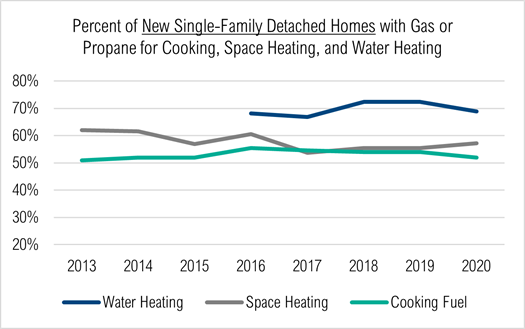 Well, gas space heating is down a bit, maybe 2%, from 2013 to 2020.  They don't say in the short article what the uncertainty is in those numbers, but I'm guessing 2% must be close to it.  That would make gas space heating basically flat in the time span.  Water heating and cooking are also pretty much flat in the time period covered.  So there's no evidence that new home electrification for single-family detached homes has picked up any steam in the past eight years.
Now let's look at their graph for apartments and townhouses (below).  It's a different story there.  For all three uses—cooking, space heating, and water heating—gas appliances are gaining ground.  And, despite all the stories about induction cooking, cooking with gas in apartments and townhouses has shown the biggest increase of the three.  It increased nearly 20% in eight years, which should be well outside the uncertainty of the data.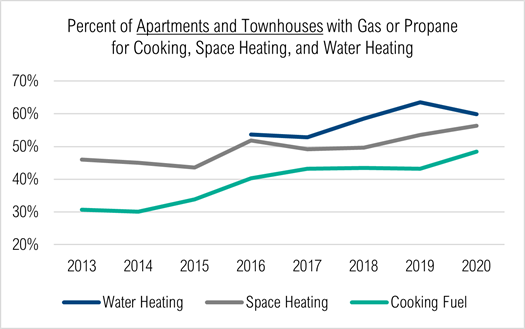 Why isn't new home electrification happening?  The article gives several possible reasons, ranging from gas being seen as more reliable to multifamily housing being built in more urban areas served by gas.  My guess is that the multifamily housing developers and production builders who build the great majority of new homes not only have not joined the electrification movement, but many of them may not even know about it.
Perhaps as cities like Seattle continue to ban gas in new construction spread across the country, we may see the data shift.  Or maybe that'll get canceled by the backlash.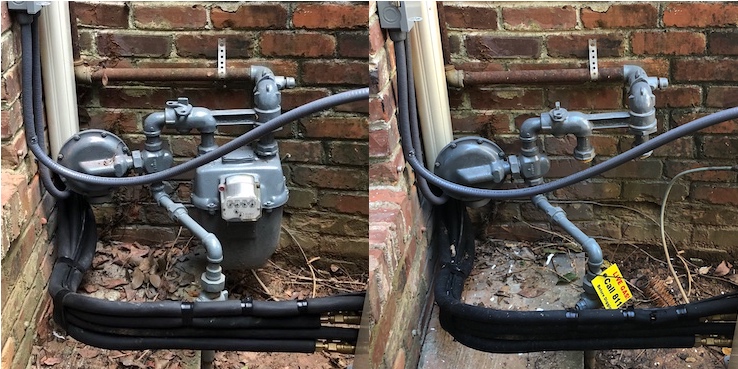 On the existing home front, I haven't seen any data on the rate of electrification there yet.  So far, all I have is anecdotal evidence.  I've electrified my own home and had the gas meter removed.  I've heard of others doing likewise.  But is there enough of it happening to qualify as a movement?
Allison Bailes of Atlanta, Georgia, is a speaker, writer, building science consultant, and founder of Energy Vanguard. He is also the author of the Energy Vanguard Blog and is writing a book. You can follow him on Twitter at @EnergyVanguard.
Related Articles
The #1 Reason to Have an All-Electric Home
Heat Pumps, Auxiliary Heat, and Resilience
A Pi Day Physics Lesson on the Induction Cooktop — With Dancing!
NOTE: Comments are moderated. Your comment will not appear below until approved.