The Stack Effect in Plastic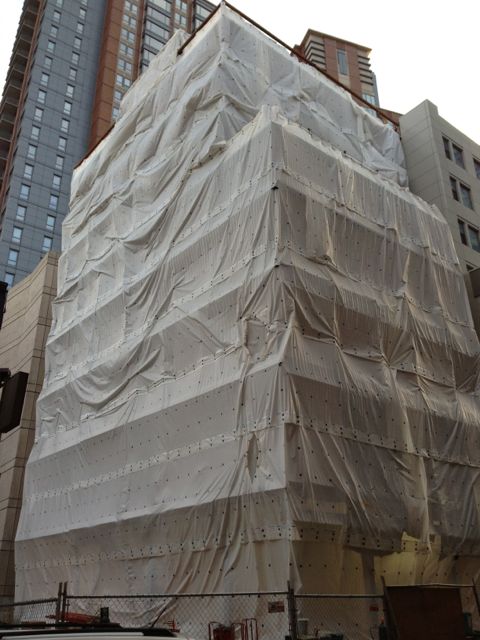 It was the stack effect that led me to Building Science Fight Club. I wrote about it two years ago and all hell broke loose in the comments, especially in the version I posted at Green Building Advisor. People get passionate about their building science, ya know.
Anyway, I'm in Boston this week for NESEA's Building Energy conference. It's cold here. A lot of buildings are in various stages of the construction process. Many have plastic draped over whole sides of them. In other words, it's a great time to get some photos showing the stack effect.
I've always had to go online in our classes and show our students photos that other people took, but now I have some of my own, finally. The one above isn't the best one I saw, but it's pretty good. You can see the plastic being sucked in at the bottom and puffed out at the top, indicating negative pressure inside at the bottom and positive pressure at the top.
The photo below doesn't show the stack effect. The plastic on that one is getting sucked in all over in this view. I think wind here was dominating stack since this was down near the water.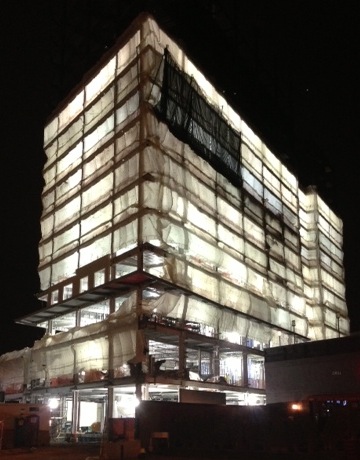 Note: I have no idea why that photo at the top is rotated. This was supposed to be a 10 minute article but my blogging software decided to thwart that objective by rotating my photo mysteriously and giving me no power to make it right. I'm hoping I'll be able to fix it later. Sorry. For now, turn your head sideways. You can turn it into your morning yoga.
Update, 10 March 2014: I've fixed the orientation problem and the photo appears correctly now. Continue on with your morning yoga anyway.

Related Articles
Heat Rises…and Falls — Stack Effect, Air Movement, & Heat Flow
Who Knew the Stack Effect Could Be So Controversial?
You Do NOT Talk About Building Science Fight Club
NOTE: Comments are moderated now. Your comment will not appear below until approved.