Why Should I Care About the Passive House Program?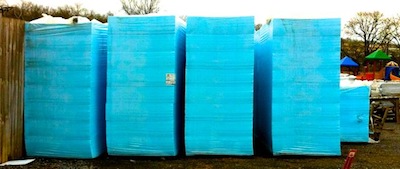 This weekend I bought my ticket to Denver for the Passive House conference at the end of September. The program has intrigued me since I first found out about it in 2007, but I haven't gotten involved with it yet. That may be changing now.
This weekend I bought my ticket to Denver for the Passive House conference at the end of September. The program has intrigued me since I first found out about it in 2007, but I haven't gotten involved with it yet. That may be changing now.
I made overtures a few years ago and then held back because my involvement with HERS rater training and serving raters as a HERS provider was consuming most of my time. The fact that the program didn't seem well-suited to warmer climates and received some well-placed criticism from folks like John Straube and Martin Holladay didn't make me feel like rushing in either. I'm sometimes accused of insisting on the perfect instead of the good (and not only by my wife!), but I do value cost-effectiveness and doing what's practical. That's why the Pretty Good House idea appeals to me.
At the Westford Symposium on Building Science (a.k.a., Building Science Summer Camp) a couple of weeks ago, I spoke with Katrin Klingenberg and as a result, decided that I should attend their conference this year. Just getting to hear Amory Lovins and Joe Lstiburek speak makes it worthwhile to attend, of course, but my real objective is to find out where the program is headed.
My Passive House leanings
In the '80s and '90s, I was a big fan of Amory Lovins. I remember reading about the house he built in Snowmass, Colorado—with their outrageous 9000 heating degree days—and how they relied mainly on passive solar gain and internal loads for heating the house. In fact, he would thank his guests for their heating contributions. I'd also been fascinated by the superinsulated houses of the '70s and '80s.
In a way, Passive House is to heating loads as Grover Norquist is to government — Their goal is to reduce the heating load to such a small size that you could drown it in a bathtub (and thus eliminate the cost of the typically huge mechanical system). I can identify with that…to a point.
I know that that Henry Gifford looks at the building envelope merely as the "assembly surrounding the mechanical system," but the building envelope has to be where you start. I think the Passive House folks have gone a little too far in trying to design and build "homes without heating systems." (Martin Holladay showed that that claim isn't true anyway.) They've done a lot of great things to help move the superinsulation model forward, however.
One thing I really like about Passive House is that they account for thermal bridging (places where heat can bypass the insulation) in a more realistic way. By contrast, the HERS energy modeling software factors in thermal bridging mainly through default framing factors for the various building assemblies.
I also like that the ultimate goal is the reduction of primary, or source, energy consumption, and that they have a high standard for air-tightness. Plus, it's encouraging to see Passive House incorporating HERS raters into the verification process.
My reservations
As I mentioned above, one of my biggest questions about Passive House has been its suitability to warmer climates with humidity. I live in the Southeast where cooling and dehumidification are significant factors. Having a really well insulated and air-tight home with no thermal bridges isn't going to get you all the way to home plate. Mechanical systems are critical, and I was happy to hear Klingenberg discuss the importance of dehumidification in her Summer Camp talk.
Extreme energy reduction is great, but you also need to make sure that the people who live in the home will be comfortable and healthy. In the latest article in her blog (the Klingenblog), Klingenberg seems to be holding tight to the energy reduction target. As she states there, "refining the annual figure to climate zones will result in a tightening of the standard in some climate zones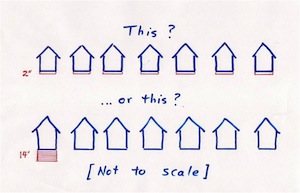 – not a relaxation, as some generally understood the proposal to do."
I like the way Martin Holladay put it in his diagram explaining the broder goal (shown at right): "You can save a lot more energy by installing 2 inches of foam under 7 houses than by installing 14 inches of foam under one house."
I'm also concerned about the cost-effectiveness issue. At a certain point, building envelope improvements become more expensive than adding photovoltaic modules to produce energy on-site.
And then there's the name. Should we call it Passive House or Passivhaus? Or something altogether different since it's not truly passive, and it's confusing because of the similarity to passive solar, which Passive Houses don't have to be.
My hopes

As Joe Lstiburek said to Klingenberg at the end of her talk this year, "If you want to change the world, this can't become a boutique program like R2000 in Canada." I'd argue that he's wrong in one respect: Passive House is already a boutique program. It's got a tremendous amount of buzz for a boutique program, however, and its effect cannot be measured simply by the number of certified projects. That buzz could propel it into another realm.
Is Passive House ready for the big time? I'm anxious to find out more when I attend the conference in Denver.
Foam hog sketch by Martin Holladay of Green Building Advisor, used with permission.