GUEST POST: An ENERGY STAR V3 Success Story in a Round House

Guest post by Leigha Dickens, Green Building Coordinator for Deltec Homes, who earlier this year was a student in our home energy rater class.
Guest post by Leigha Dickens, Green Building Coordinator for Deltec Homes, who earlier this year was a student in our home energy rater class.
Late this spring, we completed construction of an ENERGY STAR V3 certified home in Waynesville, NC. It was one of the first homes in our area to be certified under the newer and tougher Version 3 guidelines.
And I must admit, I was excited about how air-tight this house turned out to be. I mean, I sure hoped it would be air-tight—as the building scientist on the project, and with our first certification under the new ENERGY STAR V3 riding on the line, I had asked the GC to put up with some new and wacky things, all in the name of air-tightness. Still, it is one thing to anticipate and another to know that the strategies you propose will actually yield results.
The house: a panelized home, manufactured by Deltec Homes in Asheville, North Carolina—a company which specializes in energy efficient, wind-resistant, and round panelized homes (and also my employer)—and finished out by Deltec's general contracting arm, Deltec Building Company. It is a slab on grade home, round of course, 2,050 square feet, located in IECC climate zone 4 in the surprisingly-chilly-at-times mountains of Western North Carolina.
Our blower door test score was 0.9 ACH50. We used three main air-tightness construction techniques to achieve this score—and only one of them was spray foam insulation.
Start With Sealing the Ceiling
All right, we did use spray foam, but in the roof deck, only. That makes sense in this particular house design—round, remember—and with a cathedral-style ceiling a penchant by most of our homeowners to really love recessed lighting.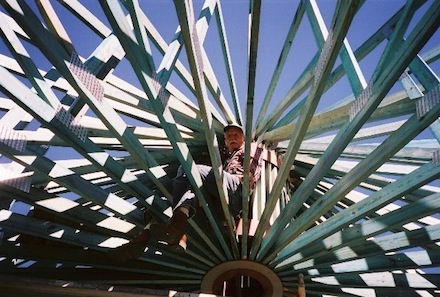 How do you put roof trusses on a round house? The same way you put spokes on a bicycle wheel, all meeting at the center and then radiating outward.
With all the roof trusses coming together to create unusual, triangular shaped bays that would be difficult to install batt insulation in neatly, and a cathedral ceiling that would give blown insulation a tendency to settle, spray foam insulation was a natural choice to get an insulation product made an encapsulated attic and that filled the space relatively evenly.
Economically Air-Tight Walls
In the walls, however, we did not continue with spray foam. Instead we took advantage of Deltec's Energy Wall, a 2×6 wall design which uses features such as R5 exterior insulation, 24"stud spacing, and header boxes filled with chopped up XPS foam.
And one thing more, an addition that Deltec calls "AirBlock," a foam building gasket applied between the stud framing and the plywood sheathing that is pre-attached to these wall panels in the factory. (Okay, so I'm the one to blame for that name. What can I say; I'm a physicist. We physicists like to describe what things do.) This helps make each wall panel more air-tight, with the goal of eliminating the need to use expensive spray foam to tighten in up. We insulated these walls with simple fiberglass batts, and we made sure we had a contractor who installed them very well—cutting around electrical boxes, avoiding gaps and compressions, etc.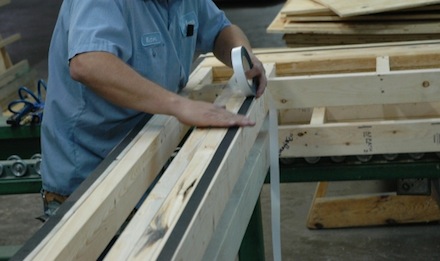 A slow-expanding foam gasket can be installed on Deltec wall panels wherever the perimeter of a sheet of plywood sheathing will sit on the studs. In the wall panel pictured above, that's the perimeter of the wall panel and the perimeter of the opening in the panel for a double door. Note that this particular wall panel is a double-stud wall, not used for the Waynesville project. That wall panel went North!
Seal It Up
The last thing we did? Why, we caulked the heck out of that thing. Sill plate, top plate, the corners between wall panels, wherever we could. We took a day, and we just got it done.
A Final Note: Turn the HERS Score into a Game
Since our own contractor built that house, it was easy to bludgeon…err…convince…him to do what the building scientist wanted him to do. ENERGY STAR being a relatively well-known and well-incentivized program in our area makes that easier. But Deltec sells panelized shell kits to homeowners all over the country, who often use their own general contractors to put them up. I recently turned another local builder on to ENERGY STAR V3 by getting him pumped about the HERS Index.
Although he had built plenty of our round houses, this builder had never done ENERGY STAR before, and hadn't even known it existed. So when his customer came to him and insisted upon it (I might have mentioned to that customer that ENERGY STAR was a good idea), I sat down with him to go over the checklists. His first reaction was, "Whatever. This is silly paperwork." I managed to at least convince him to call me whenever he had questions about foam board and decking, kneewalls and caulking.
Yet after the HERS rater came by (the very same Matt Vande whose house you have seen showcased in this blog before) and did his first inspection, this builder changed his tune. He told me how fun this whole thing was. "I emptied a case of caulk into that thing," he said, in an excited voice. "This is like a game! How low can you go?" After the final inspection and the final HERS score of 57, he was still looking for ways he could drop his number just a little bit more, professing he would beat it on the next house he did. I think he and I might be getting into a little friendly competition soon.
Summary: Air-Sealing is Fun!
For some of us, air-sealing is just a best practice we've been preaching for years. For others, the structure of a green building certification like the new ENERGY STAR gives a customer-driven reason for a builder to apply new knowledge to old tricks—and even have fun while doing it. That builder sure did. I did, too. See? Look how much fun I'm having in that photo below.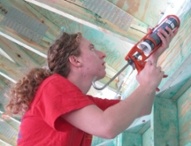 About the author: Leigha Dickens, Green Building Coordinator for Deltec Homes, is passionate about the environment and sustainability. She enjoys teaching others about these topics and write about environmental issues in various media. Leigha works with customers to evaluate their sustainability options and provides technical expertise about Deltec's green products. She also performs energy audits for Asheville's BuildSmart. She recently earned her BS in physics from the University of North Carolina at Asheville, where she was actively involved with environmental initiatives.
Related Articles
ENERGY STAR Version 3 Is Live! Where Are the HVAC Contractors?
Do You Know Your Building Science Climate Zone?
How to Grade the Installation Quality of Insulation
A Really Cool Net Zero Energy Home in the North Carolina Mountains