Humidity in a Spray Foam Attic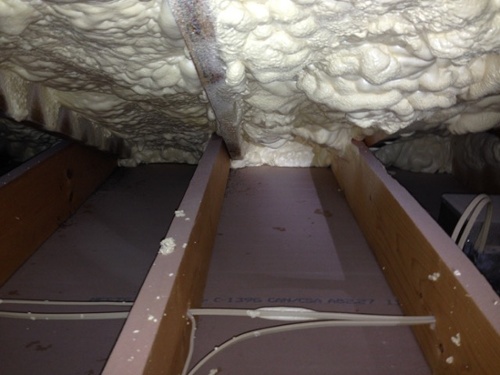 Spray foam insulation can solve problems that other insulation materials can't. One of those problems is moving the building enclosure from the drywall ceiling of a home to the roofline. By doing so, you bring the attic inside the building enclosure. But what happens to that attic space when you move it inside? Dr. Joe Lstiburek has been saying for a while now that we can't just ignore the space. He says we shouldn't be calling it a sealed attic or encapsulated attic or unvented attic. We should be calling it a conditioned attic. Here are some data to show why that's true, at least in a humid climate.
A couple of years ago we got called to investigate a house with spray foam insulation on the roofline. The homeowners complained of a slight odor in the house on hot days in the summer. This wasn't a new foam job. They had remodeled their home five years earlier, added a second floor, and had the attic encapsulated with open cell spray foam insulation.
After talking to one of the owners for a while, we took a look. Before we left that first day, we installed four data loggers to measure temperature and relative humidity. They were placed in the following locations:
Outdoors
Living area, second floor
Attic floor
Attic ridge
The graph below shows the dew points for the four locations.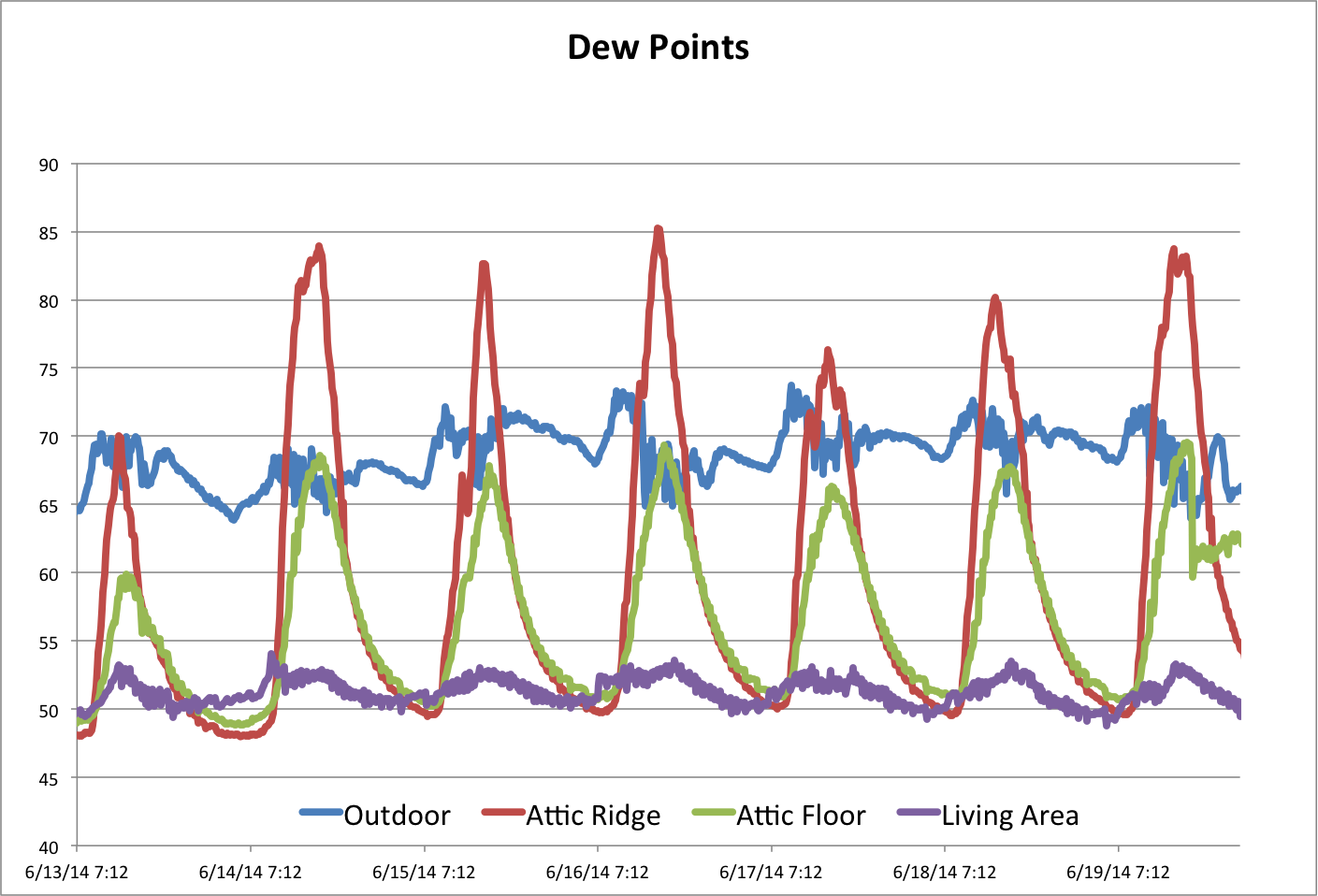 Dew point is a better measure of what's happening with the humidity because it shows whether or not the actual number of water vapor molecules changes over time. Changes in relative humidity don't tell you if you're getting more or less water vapor. You have to look at both the relative humidity and temperature to see that.
The graph above raises a lot of questions, but let me just say a few things here about what you see there.
The outdoor dew point ranged between a low of about 64° F and a high of 74° F.
The indoor dew point ranged from about 49° F to 54° F. For reference, the indoor design conditions recommended by the Air Conditioning Contractors of America (ACCA) are 75° F and 50% relative humidity. The dew point for those conditions is 55° F. Apparently, the living area is nice and dry.
The attic floor dew point ranges from about 49° F to 70° F.
The attic ridge dew point ranges from about 48° F to 85° F.
I'll come back with a followup article to write more about this, but I'll point out two important facts about the data above:
The humidity at the top of the attic gets much higher than the humidity at the floor of the attic.
The humidity at the top of the attic gets much higher than the outdoor humidity.
What do you think?
Read the followup article:  High Humidity in a Spray Foam Attic, Part 2
Related Articles
Will Open-Cell Spray Foam Insulation Really Rot Your Roof?
Dew Point — A More Meaningful Measure of Humidity?
3 Reasons to Remove Attic Floor Insulation in a Spray Foam Attic
How NOT to Retrofit a Furnace in a Spray Foam Insulated Attic
NOTE: Comments are moderated. Your comment will not appear below until approved.