My Undersized Heat Pump in an Arctic Blast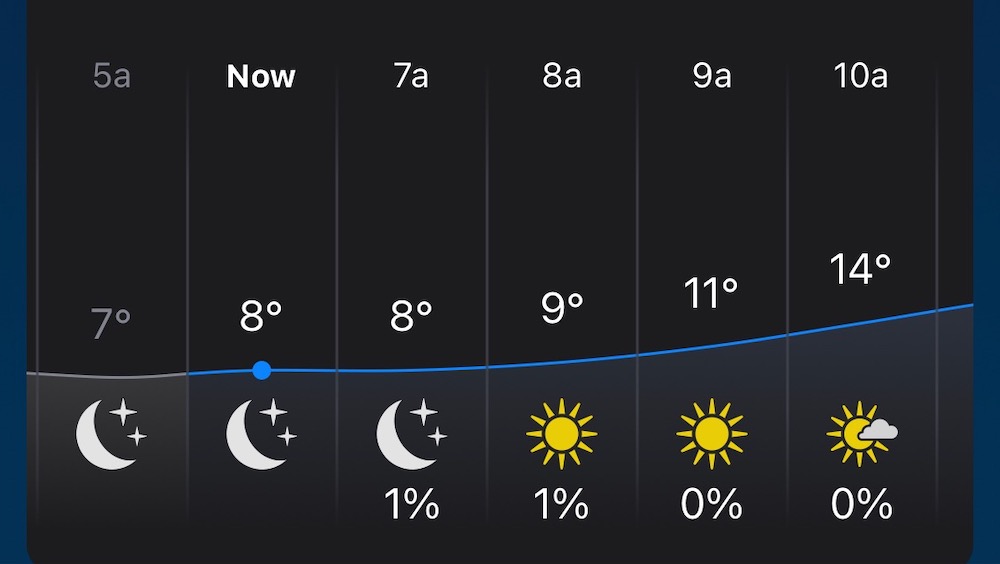 Are you afraid of heat pumps?  Some people are, and it's usually related to experiences or stories of uncomfortably cold homes.  I won't deny that there have been some horror stories about people suffering in brutally low indoor temperatures during a once-in-a-decade/century/lifetime winter storm.  I'll talk about some of the reasons for that below, but what I really want to do is to show you that heat pumps can keep you warm, even during an arctic blast.  And in my case, they can do that even when undersized.
Let's look at the example of my house.  I installed an undersized inverter-driven mini-split heat pump and have been able to see how well it performs in both a heat wave last June and an arctic blast last month.  In the heat wave, our indoor temperature barely strayed from our 74 °F thermostat setpoint.  (See my heat wave article for details.)
So, how did we do in the recent arctic blast, when the outdoor temperature dropped into single digits Fahrenheit, to a low of about -14 °C?  The answer is below.
My undersized heat pump
Before I get into how my undersized heat pump performed, however, let's review the sizing.  I did the HVAC design myself, beginning with the heating and cooling load calculation.  Then I selected the heating and cooling equipment.
I went with Mitsubishi (disclosure:  they're a sponsor of this blog) because I wanted inverter-driven mini-split technology.  By choosing their Hyper-Heat model, I had confidence that the heat pump would keep pumping out heat even when the temperature drops into the single digits Fahrenheit.

The table above shows the heating and cooling loads (first row) and the capacity of the heat pump (second row).  (For the SI folks, see this conversion table for BTU/hr to kW.)  As you can see, this heat pump serves ~2,300 square feet of floor area.  Our heating load is 31,452 BTU per hour (9 kW).  The heat pump, according to Mitsubishi's data, can provide only 20,509 BTU per hour of heat (6 kW). The equipment I selected includes one outdoor unit, the Mitsubishi MXZ-3C24NAHZ2 with Hyper-Heat, and two horizontal ducted indoor units.
Why did I undersize it?
Yeah, that's really how the numbers turned out.  According to the table, our heat pump can provide only 65% of the heat we need.  That's seriously undersized, especially for a system with no auxiliary heat.
Why did I do it?  Well, I chose this size equipment for three reasons.
First, those loads aren't the final answer.  I've got more improvements to make on the house, and that's going to reduce the loads.  In short, I'm sizing more for future loads than the as-is house.
Second, I know that Manual J heating and cooling loads are inflated.  I tell people they're generally 10 to 20 percent higher than the actual loads.  The Manual J heating load, for example, doesn't include the heat provided by lights, appliances, and people.
And third, I didn't fully trust the capacities I got from Mitsubishi's software.  I think the heating capacity is probably pretty close, but the latent capacity on the cooling side was suspiciously low.
One more point here:  The heating load is based on the winter outdoor design temperature.  For Atlanta, Georgia, that's 23 °F (-5 °C).  The idea is that you size the equipment for the design temperature, and the system will run continuously to keep the house comfortable at that outdoor temperature.  When the outdoor temperature drops below the design temperature, the house may not be able to maintain the indoor temperature you designed for, which is typically 70 °F (21 °C).  But we have a Mitsubishi Hyper-Heat model, which is kind of the equivalent of Nigel Tufnel's amplifier that goes to 11.
Temperatures during the arctic blast
OK, let's see the data.  First up is a graph showing the indoor temperature in our den along with the outdoor temperature.  As mentioned, the outdoors got down to the single digits Fahrenheit.  That seems to be a once-a-decade thing here in the Atlanta area.  This is my third decade here and the third time I recall that the outdoor temperature dropped this low.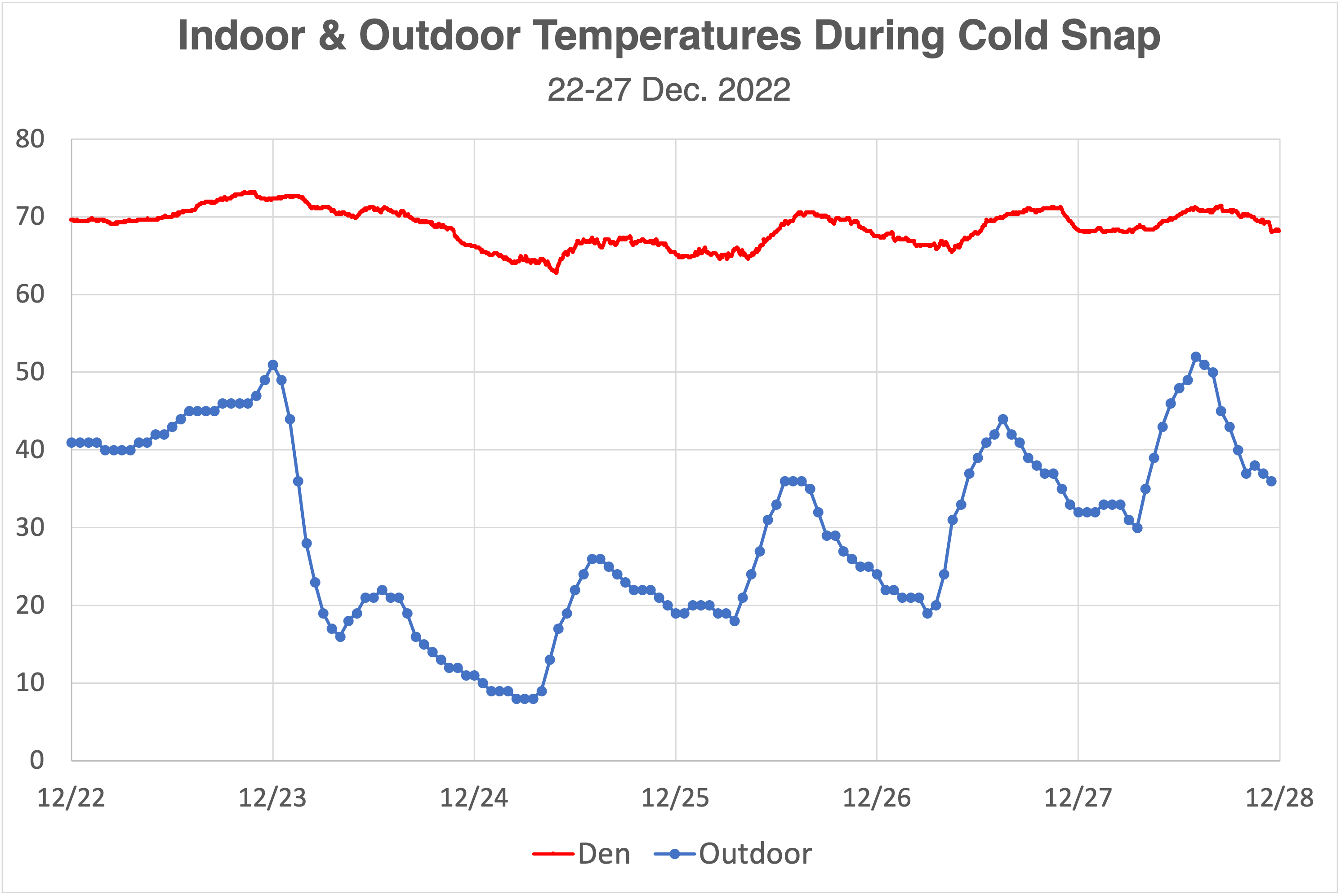 The red curve in the graph shows the indoor temperature in the den.  The thermostat for the common areas is in this room, and it's where we hang out a lot in the mornings and evenings.  As you can see, the den temperature did drop in that arctic blast, but the low was 63 °F (17 °C).
But I need to confess something.  The den is the most protected room in the house.  It's connected to the sunroom, but it has no windows and no exterior wall area itself.  (It also has a gas log fireplace, but I had the gas turned off in 2019.)  Could it be that the den was fine while the rest of the house was freezing?
No!  The graph below shows the temperatures in the den (red), primary bedroom (orange), and living room (purple).  The living room actually was warmer than the den sometimes, probably because of the solar gain from the south-facing windows.  The bedroom was the coolest room.  It's on the northwest corner of the house and also it's on a separate thermostat, which we keep about 4 or 5 °F (~2.5 °C) lower than the common areas.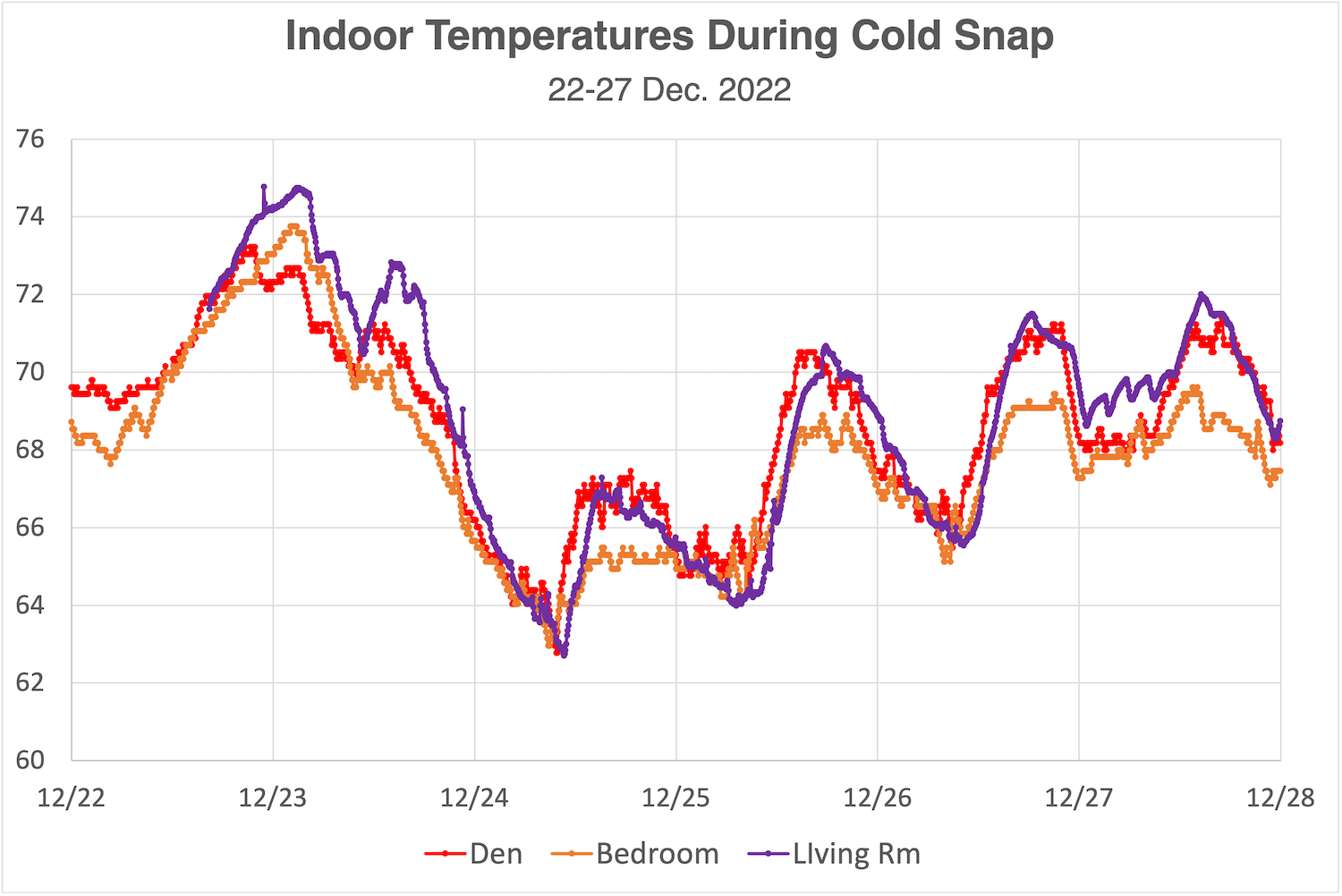 The graph shows that all three rooms hit their minimum of 63 °F (17 °C) at about the same time.  That was a few hours after our outdoor low of ~8 °F (-14 °C).  And then those rooms warmed up quickly.  On the coldest day, 24 December, the den and living room got up to 67 °F (20 °C).  By the next day, Christmas, we were back up to 70 °F (21 °C).
Yeah, 67 °F (20 °C) is cooler than I usually like it, but I never found it to be too cold.  I had a couple of space heaters standing by and didn't use them.  OK, I did use one a couple of times while I was taking a shower.  They make nice steam.  (Just kidding!  I shouldn't have to say this, but don't ever put a space heater in the shower.)
Energy use of the heat pump
Since we're talking about how well the heat pump performed in the blast of frigid air, you may be interested in the energy use, too.  The first graph here shows the hourly energy use data (green) and the outdoor temperature (blue) for those same six days.
Even without the temperature data, you can tell when the cold snap started and when it broke by looking at the low points of the energy use curve.  The cold weather arrived at about 3 am on 23 December.  That's when the heat pump cranked up to high gear and stayed there until the end of 26 December.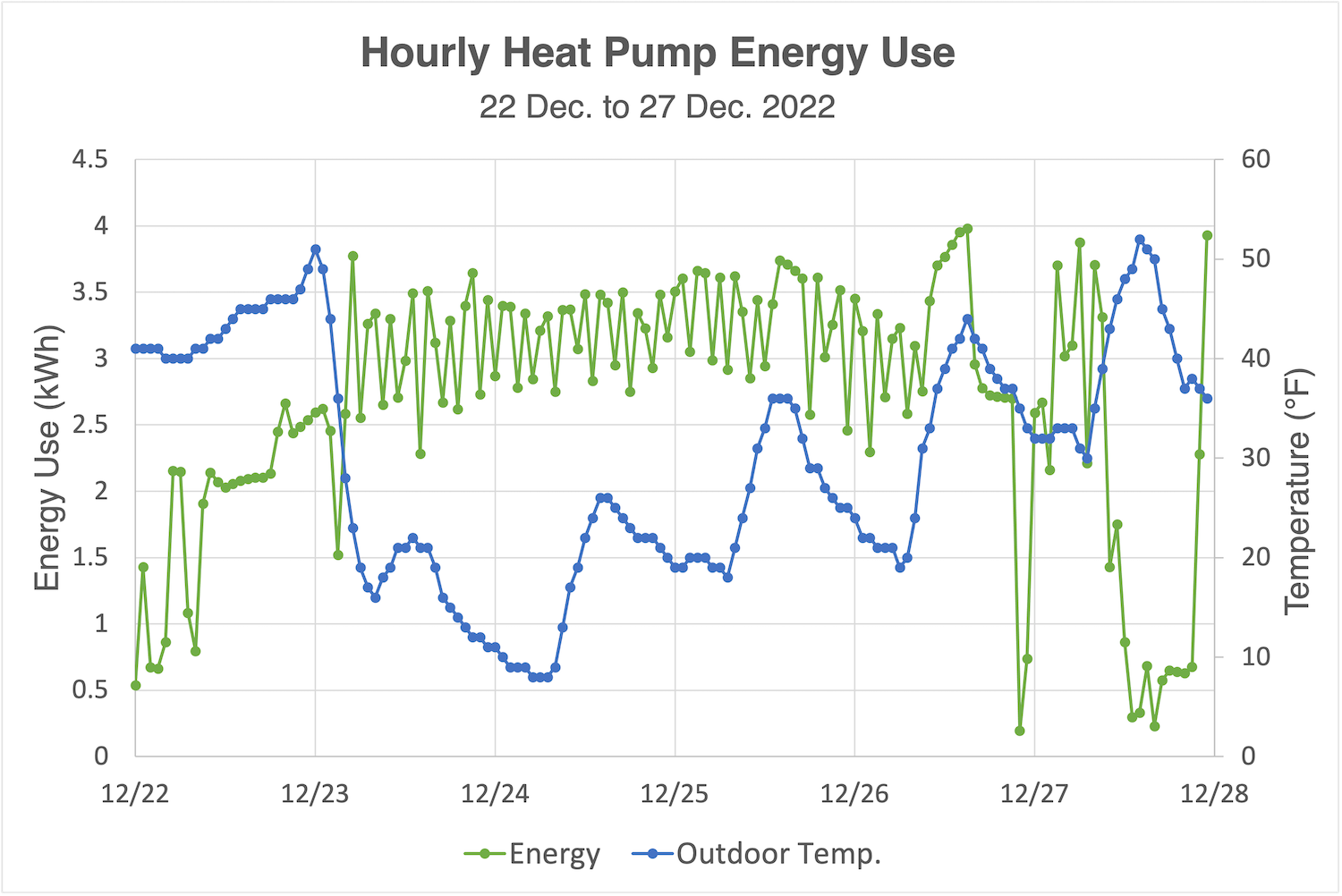 The graph below shows the daily energy use data, but over a longer period of time.  I've highlighted the six days shown in the above graphs with the blue rectangle below.  We hit a high of 80 kilowatt-hours on Christmas day.  On our normal cold days, when the outdoor temperature drops into the 20s Fahrenheit (-1 to -6 °C), the heat pump uses ~55 kWh.
During the coldest part of our cold snap, the heat pump ran flat out almost continuously.  The only exceptions were times when (I think) it went into defrost mode.  So, 80 kWh per day is probably about as much as this unit will ever use when it's operating properly.
Why don't heat pumps always work?
Yes, some people have had bad experiences with heat pumps.  I saw a social media post during the arctic blast from someone in the Midwest who said he had heat pumps, and the indoor temperature was in 40s Fahrenheit.  Yikes!
A lot of things can cause a heat pump not to be able to keep a house warm enough in really cold weather.  Of course, something could be wrong with the unit.  But let's assume the system itself is working as it should.  Here are the main reasons a heat pump might not keep you warm.
The heat pump doesn't have a way to keep capacity up as the temperature drops.  A standard heat pump loses a lot of heating capacity as the outdoor temperature drops.  If this kind of heat pump wasn't sized for its capacity at the design conditions, it may struggle.
The house is poorly insulated and has a lot of air leakage.  Even if sized correctly, a heat pump in such a house may lead to comfort problems because—this may shock some of you—air temperature is NOT the only factor that determines comfort.  Mean radiant temperature of the surfaces matters a lot.  (See my article on that topic.)
The heat pump itself is fine, but the duct system is a mess.  Ducts in unconditioned spaces—attic, crawl space, garage—can rob your system of a lot of heat.  Best is to put the ducts in conditioned space and make sure they're designed to move air efficiently.
A wrong answer here is that heat pumps just don't work in cold weather or cold climates.  Gary Nelson heats his house in Minneapolis with a heat pump and has done fine at temperatures well below zero Fahrenheit.
Not all heat pumps are created equal.  Mitsubishi's Hyper-Heat models are able to crank out the same amount of heat at about zero Fahrenheit as they do at 47 °F, and other manufacturers have similar models.  But many models can't keep up as the outdoor temperature drops.  That's why most heat pump systems have some kind of auxiliary heat.
The sum and substance here is that a house is a system.  A heat pump has to be designed to work with the house.  The house needs to work with the heat pump.  Don't run out and install an undersized heat pump just because it's worked for me.  Do your homework.  Spend the extra money to get good equipment and solid professional help, both for contracting and design.
Next year, I hope to be able to report that we had some really cold weather and our indoor temperature hardly dropped at all.  Because this is the year I'm going to redo my basement.  It should be fully insulated and much more airtight by next winter.  And have its own heating system.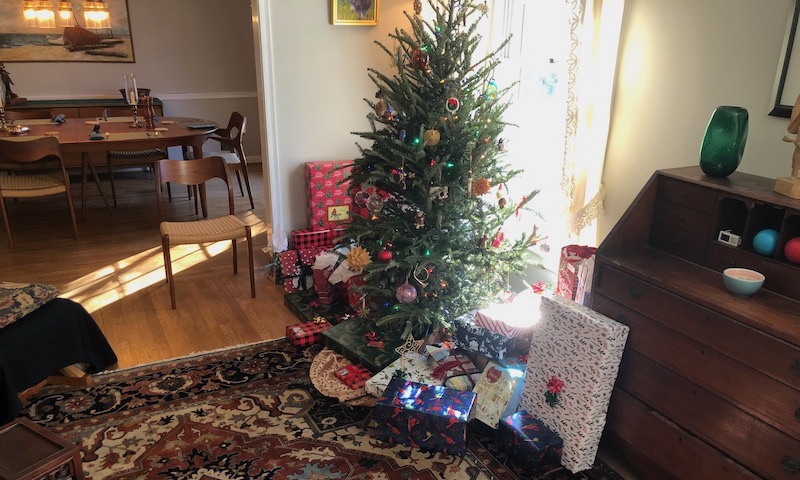 Meanwhile, we had a very nice Christmas this year at my house.  I hope you had a nice holiday season, too, however you celebrate it.  Now, can you spot the living room data logger in the photo above?
Allison A. Bailes III, PhD is a speaker, writer, building science consultant, and the founder of Energy Vanguard in Decatur, Georgia. He has a doctorate in physics and writes the Energy Vanguard Blog. He also has written a book on building science. You can follow him on Twitter at @EnergyVanguard.
Related Articles
My Undersized Ducted Mini-Split Heat Pump
My Undersized Mini-Split Heat Pump in a Heat Wave
The 3 Types of Heat From Heat Pumps
Heat Pumps, Auxiliary Heat, and Resilience
Comments are moderated. Your comment will not appear below until approved.